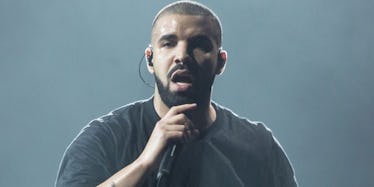 Drake's Adorable B-Day Speech For Rihanna Will Have You Rooting For Them Again
REX/Shutterstock
At this point it's very unclear whether Drake knows what he wants.
Jennifer Lopez? These Swedish twin models? Or... Rihanna? Again?
It kind of seems like Drake is back on the Rihanna train, since this weekend the 30-year-old rapper returned to an old habit of his: declaring his love for Rihanna on stage.
Monday was Rihanna's 29th birthday, and even though Drake was an ocean away, he definitely didn't forget the special occasion.
In fact, he so much didn't forget, he actually interrupted his concert at 3Arena Dublin on Monday night to pay homage to his number one favorite.
Drake told the crowd,
It's somebody's birthday today — somebody I have a lot of love for and a lot of respect for. So, instead of singing 'Happy Birthday,' though, we just going to do this in Dublin. Instead of singing 'Happy Birthday,' we're going to set it off just like this…
Drake then led the crowd in a rendition of Rihanna's "Work."
OK, you have to admit, that is pretty romantic. Drake called Rih "somebody [he has] a lot of love for," for crying out loud.
Quit toying with my emotions, Drake! (And Rihanna's emotions, too, I guess.)
True, it seems like that whole thing with JLo — whatever it was — is over now, considering that cryptic quote JLo put on Instagram.
E! News also reported sources close to the singers claim they are taking time apart due to busy schedules.
Uhhh, not sure if anyone remembers, but that's the exact same reason sources gave when Drake and Rihanna officially broke up in October.
But look, if Beyoncé and Jay Z can make it work with their schedules, I feel like Drake and RiRi can, too.
That is, if Rihanna is willing to take Drake back, of course. After that kiss he and JLo shared, homeboy might have a lot of work, work, work to do.