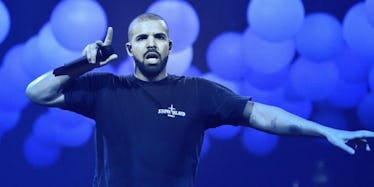 Drake Admits To Drunk Texting JLo In New Rap And Hints At Being Ghosted
REX/Shutterstock
Can someone check in on Drake? Is he OK?
On Saturday, Drake's playlist More Life was released for streaming and like most of the playlists we create, his seems to be meant to help get over an ex of his: JLo.
I mean, based on his side-eye to the camera, this might be the happiest Drake has ever been or will ever be. I knew once news broke JLo had moved on to A-Rod we would get some moody Drizzy lyrics, and I was very, very right.
Not only does the playlist, which features the likes of contributors such as Stevie Wonder, Lionel Richie and Kanye West, have two references to JLo, one of them hints he drunk texted her.
Dare I say JLo used to call Drake on his cell phone, but no more.
Unfortunately for shippers of DLo, it also seems like she might have ghosted him.
JLo's first reference happens in "Free Smoke," when Drake raps,
Iced up, my day slow Silk pajamas when I wake though Mirror bound to the face though I drunk text JLo Old number so it bounce back
Did JLo block Drake's number? Or did she, as the lyrics suggest, get a new phone perhaps to avoid his calls?
Meanwhile, the song "Teenage Fever" samples JLo's "If You Had My Love."
Why is this pertinent? Oh, I don't know... because it's all about CHEATING.
Allow me to drop the opening lyrics of "If You Had My Love" below, and you just tell me what you think:
If you had my love, and I gave you all my trust Would you comfort me? And if somehow you knew that your love would be untrue Would you lie to me and call me 'baby?'
I mean, after news of Drake spending time with a retired porn star became public, I, along with everyone else, thought he cheated on her or at the very least was seeing other people on the side in their non-exclusive relationship.
Heck, even JLo seemed to respond to this news in an Instagram post:
This is clearly a coded message, which roughly translates to "Drake, you need to get your shit together if you want to date me for real."
Timing truly is everything and this time, timing seems to have worked out pretty damn well for A-Rod.
Citations: Drake References Jennifer Lopez On 'More Life' Multiple Times & Fans On Twitter Are Living For It (Bustle)