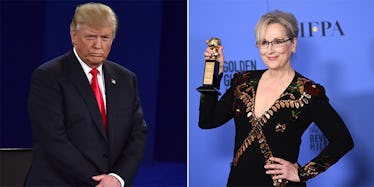 Donald Trump Has Most Trump Response To Meryl Streep's Bold Golden Globes Speech
REX/Shutterstock
Donald Trump is not surprised by Meryl Streep's comments at the Golden Globes.
During last night's awards show, Streep was honored with the Cecil B. DeMille Award, handed out by the Hollywood Foreign Press Association for "outstanding contributions to the world of entertainment."
She took her acceptance speech as an opportunity to call out the PEOTUS for his demeanor during the election process, specifically citing moments like when he mocked a disabled reporter during a campaign speech and his rhetoric against foreigners.
During the acceptance speech, Streep addressed viewers,
I was born and raised and educated in the public schools of New Jersey. Viola was born in a sharecroppers' cabin in South Carolina, came up in Central Falls, Rhode Island. Sarah Paulson was born in Florida, raised by a single mom in Brooklyn. Sarah Jessica Parker was one of seven or eight kids from Ohio. Amy Adams was born in Vincenzo Veneto, Italy. And Natalie Portman was born in Jerusalem. Where are their birth certificates? And the beautiful Ruth Negga was born in Addis Ababa, Ethiopia, and raised in Lon — no — [in an Irish accent] in Ireland, I do believe… Ryan Gosling, like all the nicest people, is Canadian. And Dev Patel was born in Kenya, raised in London and is here for playing an Indian raised in Tasmania.
She went on to say,
Here was one performance this year that stunned me — it sank its hooks in my heart. Not because it was good; there was nothing good about it. But it was effective and it did its job. It made its intended audience laugh, and show their teeth. It was that moment when the person asking to sit in the most respected seat in our country imitated a disabled reporter. It kind of broke my heart when I saw it, and I still can't get it out of my head, because it wasn't in a movie. It was real life.
Streep was referring to a 2015 speech Trump made, in which he mocked a disabled New York Times reporter named Serge F. Kovaleski.
During a phone interview made early Monday morning, President-Elect Trump wrote off Streep as "a Hillary lover," adding he was not surprised someone he'd classify as a "liberal movie" person would attack him in such a public manner.
During the interview, Trump told the New York Times,
I was never mocking anyone. I was calling into question a reporter who had gotten nervous because he had changed his story.
He went on to say,
People keep saying I intended to mock the reporter's disability, as if Meryl Streep and others could read my mind, and I did no such thing. And remember, Meryl Streep introduced Hillary Clinton at her convention, and a lot of these people supported Hillary.
As is standard at this point, Trump also spent his morning tweeting his thoughts on the speech.
Trump's comments and Streep's speech come right before the presidential inauguration ceremony, which is set to take place on January 20.
The event has become a sore spot for Trump, who has publicly struggled to find top entertainment to perform at his event.
Members of the Rockettes famously voiced their unhappiness with being forced to perform at the event, while a member of the Mormon Tabernacle Choir quit rather than perform during the inauguration.
Trump doesn't think this is going to be a problem, though. He says,
We are going to have an unbelievable, perhaps record-setting turnout for the inauguration, and there will be plenty of movie and entertainment stars. All the dress shops are sold out in Washington. It's hard to find a great dress for this inauguration.
So, sorry, people looking to find a dress (?) for the event. All the good ones are sold out.
Citations: Trump Not Surprised by Meryl Streeps Golden Globes Speech (New York Times)