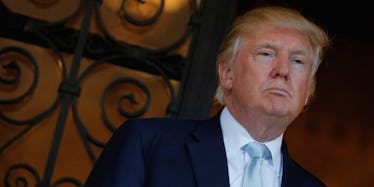 Woman Quits Choir Over Trump Performance: 'I Could Never Throw Roses To Hitler'
REUTERS
Jan Chamberlin, a woman in the Mormon Tabernacle Choir, which is slated to perform at Donald Trump's inauguration, just quit the choir because she's not comfortable performing for him, The Salt Lake City Tribune reports.
In a Facebook post, Chamberlin wrote,
Since "the announcement," I have spent several sleepless nights and days in turmoil and agony. I have reflected carefully on both sides of the issue, prayed a lot, talked with family and friends and searched my soul... I've tried to tell myself that it will be alright and that I can continue in good conscience before God and man. But it's no use. I simply cannot continue with the recent turn of events. I could never look myself in the mirror again with self respect.
It's quite clear Chamberlin feels it would be unethical for her to perform on behalf of Trump.
Chamberlin was concerned she'd be endorsing "tyranny and fascism" by singing for Trump.
She said,
Tyranny is now on our doorstep; it has been sneaking its way into our lives through stealth. Now it will burst into our homes through storm. I hope that we and many others will work together with greater diligence and awareness to calmly and bravely work together to defend our freedoms and our rights for our families, our friends and our fellow citizens. I hope we can throw off the labels and really listen to each other with respect, love, compassion and a true desire to bring our energies and souls together in solving the difficult problems that lie in our wake.
She even referred to Trump as "Hitler."
Chamberlin warned "history is repeating itself," and urged people to "read the books we all know on these topics and review the films" in an effort to avoid repeating the crimes of the past,
History is repeating itself; the same tactics are being used by Hitler (identify a problem, finding a scapegoat target to blame and stirring up people with a combination of fanaticism, false promises and fear, and gathering the funding)... I only know I could never "throw roses to Hitler." And I certainly could never sing for him.
Trump has struggled to find musical acts willing to perform at his inauguration.
Andrea Bocelli, for example, initially agreed to perform, but backed out after backlash from his fans on social media.
There was also a controversy involving The Rockettes, who reportedly faced termination if they didn't perform at the inauguration. Some of the dancers were apparently not very fond of the idea of performing for Trump.
Eventually, public pressure urged the Madison Square Garden Company, which manages the group, to claim that no dancer is obligated to perform "at a particular event, including the inaugural."
But, according to a recent article from Vanity Fair, some of the dancers are still unsure of their place in dancing organization due to this dispute.
At this point, only The Rockettes, 16-year-old Jackie Evancho and the Mormon Tabernacle Choir have agreed to perform at Trump's inauguration.
Citations: Rockette Revelation Adds to Trump's Troubling Inauguration Woes (Vanity Fair), Andrea Bocelli Backs Out of Trump Inauguration Performance After Backlash (The Daily Beast), Singer resigns from Mormon Tabernacle Choir, says she 'could never look myself in the mirror again' if she performed for Trump (The Salt Lake Tribune)