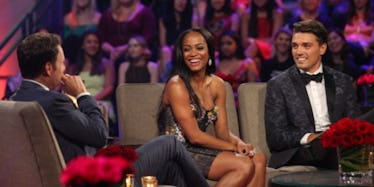 Dean Confronts Rachel On 'Bachelorette: Men Tell All' And It's So, So Emotional
ABC
Dean Unglert was definitely a fan-favorite on Season 13 of The Bachelorette. People went buck wild when his heart was broken after hometowns. On July 31, Dean finally confronted Rachel Lindsay on The Bachelorette: Men Tell All. I think Dean (and the millions of viewers) deserved an explanation.
Dean's hometown date was... dramatic. His mother passed away when he was a teenager, and that really broke up the family dynamic. He was estranged from his father and hadn't confronted him about their issues until basically the moment all the cameras were rolling. The date turned from exciting drama to extremely difficult to watch in a matter of moments. The silver lining was that Dean went through this important moment with Rachel, which seemed to solidify their relationship.
Dean told Rachel he was falling in love with her and, surprisingly, she said it back. If you don't normally watch the show, that's huge. And that's why it was a such a stab in the heart when he was sent home on the July 17 episode at the rose ceremony directly following the hometown date.
Rachel admitted that her reasoning behind sending Dean home did have to do with the emotionally charged hometown date. She said during an interview with On Air With Ryan Seacrest,
Dean was learning a lot about himself, and I felt like some of the emotions that he had with me, in regards to love, were wrapped up in that I was going through a lot of firsts with him... I felt like he wasn't ready for the same things that I was.
Dean had his chance to talk to Rachel about it, and it went surprisingly well.
Rachel was finally brought out at the end of Men Tell All and Dean was the first one to jump up and talk to her in the hot seat. Dean said,
I'm kind of almost at a loss for words right now, it's hard to relive it back on the screen up here. I'm still kind of confused why you told me you were falling in love with me, and then I got the boot four days later.
Rachel never backed down that she meant what she said. She responded,
I was falling in love with you, that was real.
Cue all the feels. While I don't agree with her decision, Rachel had her reasons for sending Dean home. You've got to follow your heart.
However, there's a good ending here. Chris Harrison hinted about Dean having a good time in Bachelor in Paradise, and viewers are so excited.
We're rooting for Dean to find love and happiness in this next chapter. Thanks for being so handsome!