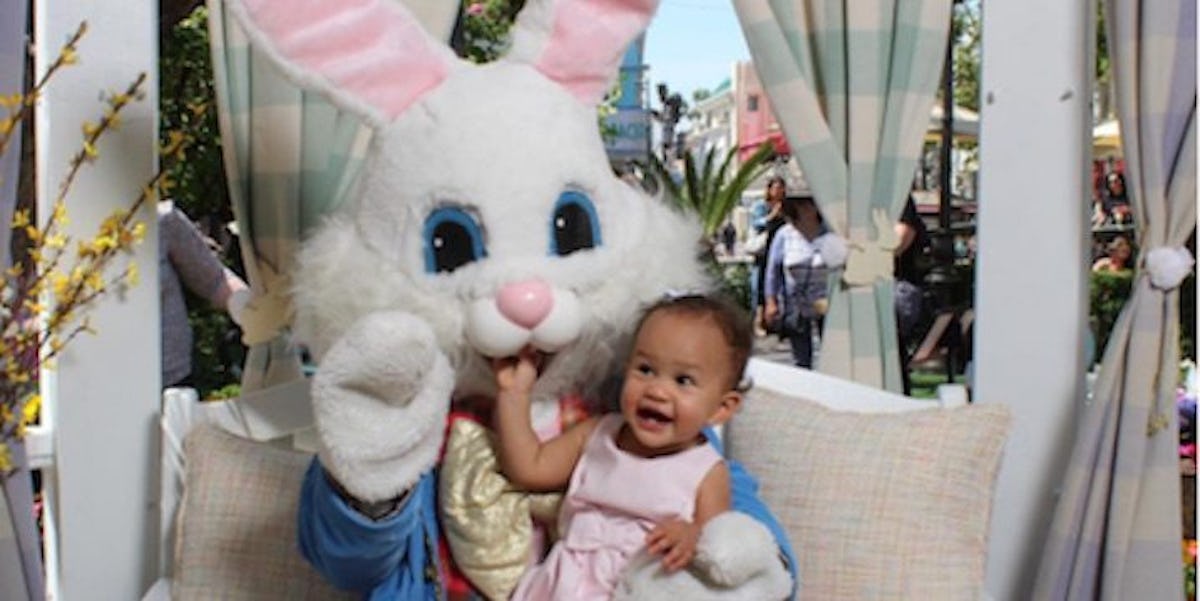 Chrissy Teigen's Mom Shares Adorable Pics Of Luna With The Easter Bunny
Instagram
Maybe, if we wish super hard on the sun itself, Luna Stephens will never age.
If one of us can just find a benevolent witch in an Icelandic cave and, I don't know, strike a reasonable bargain with her, maybe we can get John Legend and Chrissy Teigen's daughter to stay a baby forever.
The nugget doesn't miss a holiday and, if Halloween was a fair example of Luna's level of festivity for a given occasion, she hits every single one with full, committed chubby baby adorableness.
With Easter on the way April 16, it makes sense Luna would be posing for pics with the Easter Bunny ahead of time.
Her grandmother (Chrissy's mom), Vilailuck Teigen, shared snaps of baby Luna selling marshmallow Peep wishes and chocolate egg dreams.
It's been a big year for Luna and her parents. She recently wore her first bow and said her first word ("cat").
Despite this gorgeous family's major successes, things haven't always been simple for the Stephens fam.
After giving birth to Luna, Chrissy suffered from postpartum depression and generously opened up about her experience in the April issue of Glamour.
She shared,
I couldn't figure out why I was so unhappy. I blamed it on being tired and possibly growing out of the role: 'Maybe I'm just not a goofy person anymore. Maybe I'm just supposed to be a mom.' When I wasn't in the studio, I never left the house. I mean, never. Not even a tiptoe outside. I'd ask people who came inside why they were wet. Was it raining? How would I know — I had every shade closed.
John stayed by her side through every dark moment, but the struggle was one only Chrissy and other women diagnosed with PPD truly understood.
She added,
Most days were spent on the exact same spot on the couch and rarely would I muster up the energy to make it upstairs for bed. John would sleep on the couch with me, sometimes four nights in a row. I started keeping robes and comfy clothes in the pantry so I wouldn't have to go upstairs when John went to work. There was a lot of spontaneous crying.
Chrissy found her way back to her old self following treatment for her postpartum depression and anxiety and spoke out in an effort to keep other women facing this reality from feeling "embarrassed" or "alone."
Chrissy is basically all our moms, if all our moms were swimsuit models with hilarious Twitters.