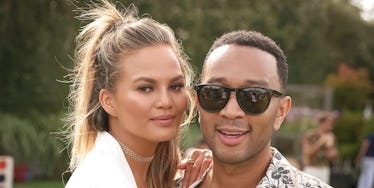 Chrissy Teigen Ditches Romantic Weekend With John Legend For Women's March
REX/Shutterstock
What's more important: supporting your husband, or meeting up with millions of women to stand in protest the day after Donald Trump's inauguration?
Well, if you ask Chrissy Teigen, she'll tell you the latter.
On Friday, January 20, the 31-year-old mother informed fans on Twitter she would be heading to Washington, DC to support her fellow ladies at the Women's March.
She wrote to her followers,
i was going to go to sundance to support john tomorrow but feeling compelled to support my fellow women. see you at the women's march, DC
YASSS, CHRISSY. YASSSSSS.
Several celebrities, including Amy Schumer, Katy Perry and Cher, will also be standing in solidarity and attending the Women's March.
Other stars like Lena Dunham and America Ferrera have voiced their support on social media as well.
Welcome, Chrissy. Thank you for joining us!
According to the responses on Twitter, it looks like many people stand by Chrissy's decision.
Sorry, John Legend! A girl's gotta do what a girl's gotta do. I'm sure you understand.
Chrissy Teigen has expressed her views on this election before and doesn't hold back when talking smack about Trump.
Right after she tweeted about the Women's March, she decided to add some commentary about the president's inauguration.
She added a couple of jokes, too, just to keep things light-hearted. Oh, Chrissy.
It is important to note the official Women's March organization wants people to attend more so to be pro-women instead of anti-Trump.
It will surely become one of the biggest marches in American history, with over 250,000 RSVPs on Facebook alone.
If you're planning on heading to DC tomorrow or tonight, here's everything you need to know.
If you can't attend but still want to get involved, here are six ways you can support the Women's March on Washington without actually attending.
Lookin' forward to tomorrow, ladies! Let's do this.