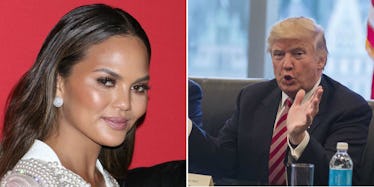 Chrissy Teigen Told Donald Trump 'DJ Buttcrack' Will Perform His Inauguration
REX/Shutterstock
Donald Trump and Chrissy Teigen are beefin' and it may be my favorite Twitter feud of 2016.
If there is one silver lining to the toilet explosion that was 2016, it's watching Donald Trump try to book someone to perform at his inauguration. Because of *points to everything that Donald Trump has literally ever done,* the president-elect cannot get any moderately famous individuals to make their way to DC to welcome Donny into the White House.
This thing I tweeted about the situation should put you in the Christmas spirit just a little bit.
The issue has gotten so bad that all he's been able to book thus far is a runner-up from "America's Got Talent" and the Rockettes, who are reportedly being forced to perform against their will.
Don is clearly feeling the heat and reportedly is furious at his lack of ability to nail down someone to perform whose name you don't have to google.
Luckily for us, Trump wears his heart on his sleeve more than anyone else on the planet.
Thankfully, Chrissy Teigen was there to put Donald back in his place. She went on a rant at Donny about how celebrities are, in fact, people and that our future president is clearly taking this issue like a kid who just got rejected to the world's most public prom.
God bless the internet's mom, Chrissy.
She then went on to make maybe the funniest joke about this situation to date.
ANYONE ELSE PUMPED FOR DJ BUTTCRACK TO KICK OFF THE NEXT FOUR YEARS OF POLITICS?!?!?
When Twitter users started replying to her that she has no right to talk about a-listers, she corrected where they should be placing their anger.
In Trump's defense, it was announced today he was able to book the Mormon Tabernacle Choir to perform at the inauguration. SEE, CHRISSY! FAMOUS PEOPLE ARE COMING!
Citations: Chrissy Teigen Just Started Epic Twitter Beef with Donald Trump (Marie Claire)