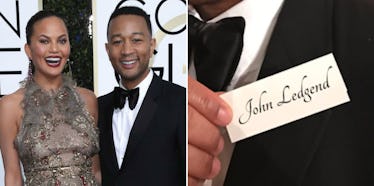 Chrissy Teigen Mocked John Legend After Golden Globes Spelled His Name Wrong
REX/Shutterstock/Twitter
NBC: Hey, um, are you guys OK?
I'm just checking in because not only did you guys have some serious technical difficulties with the 2017 Golden Globes, but you also spelled John Legend's name wrong.
Yes, you read that right: Someone who worked at the Golden Globes on Sunday night didn't know how to spell "Legend." It's literally a word in the dictionary!
But somehow, when Chrissy Teigen and John Legend got to their seats in The Beverly Hilton Hotel on Sunday night, they were met with this bullshit:
In case that fancy, curly font is hard for you to decipher, it says "John Ledgend." As in, L-E-D-G-E-N-D.
Like any good wife would, Chrissy took the opportunity to mock her husband for apparently not being important enough for someone to spellcheck his name before printing his name tag.
Luckily, Chrissy and John are being pretty chill tonight, so hopefully John won't take this too hard.
I mean, they literally just sat down while they were doing interviews on the red carpet, so it doesn't seem like they're taking things too seriously.
Like Chrissy said, it's a long night, and no doubt she is in some ridiculously uncomfortable pair of shoes.
But still, even if he sits down for interviews, John Legend is there because the film he was in, "La La Land," is getting a bunch of awards and stuff. He deserves a little respect. Just a little.
So, to recap, NBC has:
Not done the live stream of the "Golden Globes" they promised they would do.
Messed up the teleprompter at the beginning of the show, forcing Jimmy Fallon to do an uncomfortable impression of Chris Rock instead of his carefully planned monologue.
Spelled John Legend's name wrong, even though his name is literally a word in the dictionary.
Phew! 2017 is off to a great start!