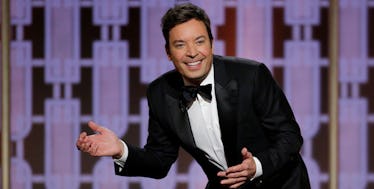 The Golden Globes Teleprompter Went Down And Everyone Made The Same Joke
REUTERS
Leave it to Jimmy Fallon to own a teleprompter malfunction like the boss guy he is.
The beginning of the 74th annual Golden Globes could have played out as a rocky mishap, but Jimmy saved the entire show (PHEW) in typical #FallonFashion.
I guess that's why this dude gets paid the big bucks!
Have a look at the teleprompter failure for yourself, and see Jimmy's totally rad response.
He started his opening monologue with,
Welcome to the Golden Globes. Uh, already the teleprompter is down, so this is a great way to start the show. I could do, uh, I could do impressions… What do we do here? I can think of something… Cut to Justin Timberlake, please…
Jimmy continued to say,
You know what, I'll make up this monologue. We're here, this is what happens at the Golden Globes already, you have, already… Already you have your Golden Globes moment. Already. It's already like a gif, um, I'm happy I didn't trip…
The 42-year-old TV host continued to ad-lib his way through the beginning of the awards show.
People on Twitter had a complete and utter field day in response to the teleprompter malfunction.
It seems like everyone was cracking the same joke, crediting the fail to a Russian hack.
It's clear everyone handles on-the-spot fails differently. We all witnessed Mariah Carey's live faux pas on New Year's Eve, which her team claimed was sabotage...
One Twitter user actually brought Mariah into this whole Golden Globes teleprompter debacle.
#OOPS.
Not going to lie… I, for one, would be pretty stressed the heck out if I ever had to experience something like that and casually save the catastrophe ASAP.
Jimmy Fallon, we all know you've always been the real MVP, and this Golden Globes situation further proves your hardcore swag status. You keep doing you, Jimmy.