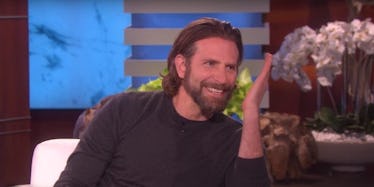 Bradley Cooper Had The Funniest Reaction To Ellen Bringing Up His Newborn Baby
YouTube
In case you haven't heard, Bradley Cooper is a father now.
I KNOW. It's nuts. He and his girlfriend of two years, Victoria's Secret model Irina Shayk, welcomed their baby girl Lea De Seine back in March.
Cooper was on "The Ellen DeGeneres Show" Friday, marking his first appearance since the baby's birth. So, obviously, Ellen had to bring it up.
Ellen welcomed Cooper to the show, saying,
Thank you for being here, I know how busy you are. I know you're not doing anything and this is the one interview you're doing, so thank you for being here. It's very, very nice of you. I don't know if you know this, but you have a baby... and so, I'm just going to let you know you have a baby.
Brad had the best response, simply asking, "WHAT?!"
Ellen replied,
When you get home you should look for it. It's somewhere in your house.
The conversation quickly switched over to Cooper's remake of "A Star Is Born," which he's directing and starring in alongside Lady Gaga.
We first found out Cooper's girlfriend was pregnant at the 2016 Victoria's Secret Fashion Show. There were rumors the pair got engaged in December, when the model was photographed wearing a gorgeous diamond ring.
Ellen also revealed the moment she knew Cooper would be a good father, and it has a little something to do with that cringeworthy baby scene in "American Sniper."
Honestly, amazing acting considering how horrifyingly FAKE THAT BABY IS! See his hand moving the baby's arm to make it look real? LOL.
Apparently, the "American Sniper" team got so much flack about the fake baby, they had to explain themselves. Executive Producer Jason Hall said the first baby got sick and the second never showed up, so the doll was the best they could do.
Fake baby aside, we're wishing B-Coops all the luck in life with his real-life daughter.
Citations: Bradley Cooper Makes His First TV Appearance Since Becoming a Father (E! Online)