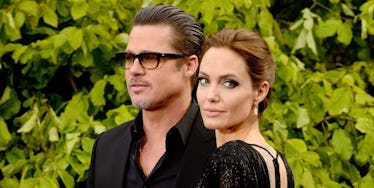 Brad Pitt Refused To File An Answer To Angelina Jolie's Divorce Petition
REX/Shutterstock
In a weird way, the surprising lack of drama coming from the Brangelina divorce proceedings will kind of sort of make you believe in love again.
Brad Pitt reportedly did not file a response to Angelina Jolie's divorce petition by Wednesday's court deadline. Apparently, this was because Brad is afraid of starting a hostile legal battle that could negatively affect the couple's six children.
This doesn't mean Brad is giving up on the divorce proceedings entirely. A source close to the family told Us Weekly the couple and their lawyers are trying to reach an agreement on their own outside of court first.
After that agreement is reached, Pitt will file his own response to Jolie's initial divorce filing.
Pitt is reportedly asking for joint physical and legal custody over their children, Maddox, Pax, Zahara, Shiloh, Knox and Vivienne, who are 15, 12, 11, 10 and 8 (twins) respectively.
According to court documents, Jolie is seeking full custody of the children.
Pitt and Jolie came to a temporary custody agreement back in September that led to Pitt seeing his kids for the first time since the divorce a few days ago.
Under that agreement, Jolie maintained temporary full physical custody over the children and required Brad to have a therapist present during his first interaction with the kids.
Based on that initial visit, the therapist then had the ability to decide whether or not to allow unsupervised visits in the future.
Other terms of the agreement involved Brad and Angelina having to attend therapy separately as well as in group sessions with their children. Brad also agreed to drug and alcohol testing.
TMZ reports Pitt since passed his drug and alcohol screenings.
According to a source, the Pitt-Jolie children had to undergo a month of therapy before the meeting actually took place. This was allegedly because Brad "wanted to make sure the meeting would be the most productive for the kids."
So, you see, everything is working out!
Citations: Brad Pitt Isnt Filing Response to Angelina Jolies Divorce Petition (Us Weekly)