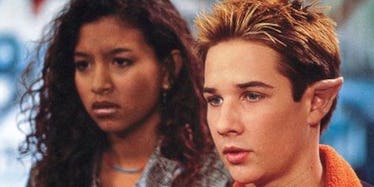 Here's What Bonnie From 'The Luck Of The Irish' Looks Like Now
Disney Channel
When it comes to movies to watch on St. Patrick's Day, the clear first choice is Disney Channel's original gem "The Luck of the Irish."
The flick about a basketball player who discovers he's part leprechaun is a classic among Disney fans. But it's been a long time since 2001, which leaves me wondering: What are those kids doing now?
Now, we could focus on the movie's lead role, the leprejock (jockrechaun??) Kyle, but many TV fans already know all about Ryan Merriman's career.
He had a recurring role on "Pretty Little Liars" for four years, after all. Instead, I pose the question, "What ever happened to Bonnie?"
Remember Bonnie?? The BFF in the movie who pushes Kyle to dig into his Irish heritage and helps him get his lucky coin back from the evil leprechaun Seamus (who's played by King Richard from "Galavant," by the way). This girl!
Bonnie was totally the Hermione of the group, and as I wrote that I realized how weirdly similar "The Luck of the Irish" is to "Harry Potter and the Sorcerer's Stone."
Like... Kyle (Harry) has to go through all these trials to defeat Seamus (Voldemort) and retrieve his magical coin (the Sorcerer's Stone). And along the way he has the help of his loyal sidekicks, the lovably goofy Russell (Ron) and the determined and learned Bonnie (the clear Hermione!).
But we're not here to talk about all the similarities between "The Luck of the Irish" and "Harry Potter" (though we should — Harry was a jock who discovers a shocking family secret too, y'all!), but what our girl Bonnie is doing nowadays.
Turns out, Bonnie Lopez and the actress who portrayed her shared a last name. Alexis Lopez is 32 years old now, and works as a model, according to her IMDb bio. And after one look at her, it's clear why she's a model!
Alexis Lopez got out of the acting game pretty quickly after filming "The Luck of the Irish." Her only credit since her biggest role was a 2003 episode of "That's So Raven."
It looks like she was just involved in Disney Channel shows during her teens (she was also on "Even Stevens" and the "Movie Surfers" shorts) before transitioning into her modeling career.
She's also been married for close to two years now, and her name is now Alexis Roulette.
So when you're re-watching "The Luck of the Irish" with your friends on St. Paddy's, now you'll know that Bonnie is a legit model now!