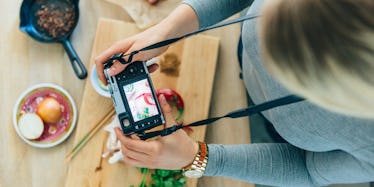 These 4 Tasty Irish Recipes Are The Perfect Way To Celebrate St. Patrick's Day
One of the best parts about St. Patrick's Day is the delicious, savory meals that you're actually encouraged to eat on the holiday.
Grocery stores are filled with all sorts of veggies that wouldn't normally be displayed, restaurants offer specials on all the holiday-inspired dishes and people all over America pull out their cookbooks to create their favorite Irish dishes.
If you're a busy millennial who doesn't exactly have the time to create an elaborate meal, or if you simply don't want to deal with the St. Patty's day crowds at the restaurants, then these four recipes are for you.
These meals are easy to whip up, only contain four ingredients and will have your family and friends begging for seconds.
1. Shepherd's Pie
This twist on the classic recipe is packed with flavor and makes for a very balanced meal.
Ingredients: - one can of cream corn - half of a white onion - one pound of ground beef or turkey - four cups of mashed potatoes
First, preheat your oven to 375 degrees. Cook and drain the meat. Dice up the onion and mix it together with the ground meat. Add in the creamed corn and mix it all together.
Place the mixture in a greased 8x8 glass-baking dish. Prepare the mashed potatoes, and spoon the potatoes on top of the meat. Spread evenly. Cook in the oven for 30-40 minutes, until the top is crusty.
This recipe makes four hearty servings, and there's a good chance you'll have leftovers.
2. Ham and Cabbage
This meal is a popular staple in Irish households. It's packed with protein and nutrients, so it'll provide you with lots of energy.
Ingredients: - two ham steaks - half a head of cabbage - eight red potatoes (or box mash) - mustard
Start by peeling, chopping and boiling the red potatoes. Mash and add in any butter, milk, salt and pepper you want in the potatoes. Chop up the head of cabbage and add some pepper for taste (I use a ton of pepper, personally). Then boil it all.
Rub a teaspoon of mustard on each side of the ham steaks and fry on medium-high heat until cooked through. Spoon the mashed potatoes onto your plate, place the ham steak on top and add cabbage.
This recipe will serve two-to-three people.
3. Meat and potatoes
This is a simple, savory meal that will satisfy your whole family. The best part is you can throw it in the crockpot and forget about until dinner.
Ingredients: - Can of green beans (or half a pound of fresh green beans) - one pound of ground beef - one can of cream of mushroom soup - three potatoes
Start by skinning and chopping up the baked potatoes. Place them in your crockpot. Cook and drain the ground beef, and place the meat on the potatoes.
Next, drain the green beans and pour them on top of the potatoes. If you're using fresh greens, cut off the ends and cut the beans into two-inch bites.
Dump the can of cream of mushroom soup on top of everything. Cook on low for eight hours or on high for four.
This meal makes four-to-six servings.
4. Potato soup
Who doesn't love a scrumptious potato soup? This flavorful soup is the ultimate Irish meal.
Ingredients: - six potatoes -16 oz chicken stock - one onion - salt and Pepper
Begin by peeling and chopping up the potatoes. Place the potatoes in a big pot and pour the chicken stock on top. Chop up the onion and add it to the soup.
Cook the soup until the potatoes are soft. Season with salt and pepper. To spruce up this meal, top it with bacon, cheese and sour cream.
Give these recipes a try and I promise, those Irish eyes will definitely be smiling. Happy cooking!