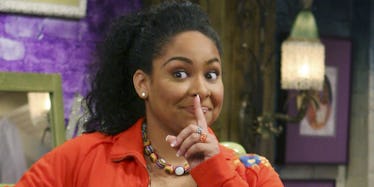 Oh, Snap: 'That's So Raven' Is Getting A Sequel On Disney Channel
Disney Channel
THIS IS NOT A DRILL PEOPLE: Your childhood is being rebooted in the form of a "That's So Raven" sequel.
IT'S THE FUTURE I CAN SEE, AND THE FUTURE IS LOOKING VERY BRIGHT INDEED.
According to a report from Deadline, Raven-Symoné is officially working with Disney Channel again for a sequel to the classic teen show "That's So Raven," which ended after four seasons in 2007.
She recently announced she will be leaving "The View," freeing her up to get back into the role of Raven Baxter. Raven will also be an executive producer on the new show, which is currently beginning casting.
The new Raven Baxter will reportedly be a divorced mother with a preteen son and daughter.
But don't worry, this family sitcom won't be without some gazin' into the future: One of Raven's kids has inherited her pre-cognitive abilities.
Adam Bonnett, EVP of original programming at Disney Channels Worldwide, said of the sequel series,
Raven's brilliant style of fearless comedy was a driving force for Disney Channel's success around the world. Her performance in 'That's So Raven' is timeless. We now have our eyes on the future with her, and we're looking forward to telling more stories for a new generation with an adult Raven Baxter raising her young family.
This is not the first old school TV series Disney Channel has given sequel treatment to.
"Girl Meets World," the sequel to the popular "Boy Meets World," is wrapping up its third season right now.
OK, no shade to "Boy Meets World," but I have been praying for a "That's So Raven" sequel for SO LONG!
No word on whether the rest of the original cast will be back for this sequel or not, but I'm praying to the "That's So Raven" gods we get Orlando Brown back as Eddie and Anneliese van der Pol back as Chelsea.
And hopefully Kyle Massey is back, too, so we can figure out if Corey ever did manage to get out of that house.
No word on what the new theme song will be, but surely Raven knows it will never get any better than this.
Citations: 'That's So Raven' Sequel Set At Disney Channel; Raven-Symoné Stars & Produces (Deadline)