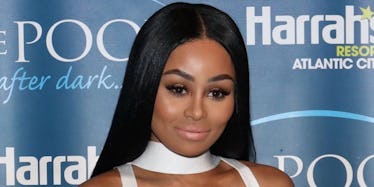 Blac Chyna Takes Topless Pic In Bed With New Man Following Rob Kardashian Drama
Tom Briglia/Getty Images
Just when you thought things were settling down with Rob Kardashian and Blac Chyna, the pettiness is just getting started. Rapper Rarri True posted pictures of him and a topless Blac Chyna in bed together on July 6.
Elite Daily reached out to Rarri's team for comment on the photos but did not hear back by the time of publication.
The caption of this photo reads,
That 250k In Jewelry Ain't mean Sh*t to RARRI. Rep Yo set. Lesson Learned Daniel Son.
This is probably in response to Rob Kardashian claiming he bought Chyna $250,000 worth of jewelry. In addition to the gifts, Kardashian claimed he's paid for extensive plastic surgery for Chyna (an anniversary gift), and that she allegedly uses drugs and repeatedly sleeps with strange men.
Elite Daily also reached out to Rob Kardashian and Blac Chyna's teams after Kardashian leaked several nude photos of Chyna on Instagram on July 5 but has not heard back by the time of publication.
In addition, Kardashian made many claims about Chyna's faithfulness and fidelity to him. In the rampage, he talked about his sister, Kylie Jenner, and her ex-boyfriend Tyga, and even managed to throw shade at rapper T.I.
The other photo shows Black Chyna and Rarri True laying in bed together with the simple caption, "SMILE." Savage. Neither one of them seems to be upset about the social media war happening in the pic. They look pretty content.
So, who is Rarri True? The 24-year-old is a rapper, model, and songwriter. This post is what first put Rarri True in headlines:
Allegedly, Rarri True is laying in Blac Chyna's bed while wearing Rob Kardashian's robe. However, nothing has been 100 percent confirmed.
One thing is for sure: People on Twitter can't get enough of this drama.
There's a lot of mixed emotion about the situation. People agree with different sides, but, surprisingly, everyone seems to just be standing back, watching. Who knows what will happen next in the Rob and Blac Chyna saga.