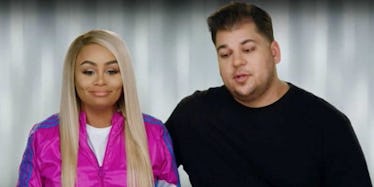 This Tiny Detail In Pic Of Blac Chyna May Mean She's Done With Rob K For Good
E! Entertainment
April 5 marked the one-year anniversary of Rob Kardashian and Blac Chyna's engagement.
A timeline of their relationship shows it's been a pretty wild year for the couple — a baby, a TV show and now, it seems, a breakup.
While it's been pretty confusing whether or not the two have actually split or not, most sources seem to agree they probably have.
How did Blac Chyna choose to ring in her one-year with her fiancé and the father of her child? By going out on the town without him or her engagement ring!
On the night before her anniversary, Chyna was photographed at the opening of TAO restaurant in Los Angeles, sans Rob and ring.
She was, however, according to a report from Entertainment Tonight, accompanied by a mystery man to the restaurant. Despite her usual fame-loving nature, she seemed like she really didn't want to be photographed.
So, you know, happy anniversary!
This is hardly the first time Chyna's been spotted without the huge diamond rock she was gifted a year ago.
An insider told E! News Chyna had actually given the ring back to Kardashian, and that there would be no wedding.
The source said,
Chyna and Rob are certainly not together or engaged. In fact, Chyna gave the engagement ring back to Rob when they broke up last month. Something caused them to have a blowout fight, and Chyna gave the ring back and it was done. They officially are not engaged. There is no wedding.
Last month, she was spotted out to lunch with a mystery man without a ring on, and a few weeks later she posted a Snapchat, again, with no ring in sight.
But then again, just earlier this week, the two were getting along and goofing off on Snapchat together. They even kissed and everything.
So, in the immortal words of Oprah Winfrey: WHAT IS THE TRUTH?!