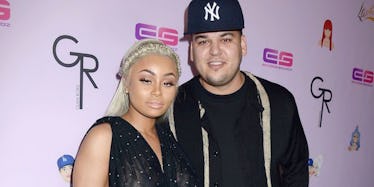 Tiny Detail In New Snapchat Of Blac Chyna May Confirm Split With Rob Kardashian
REX/Shutterstock
The world shed some major tears when news broke Rob Kardashian and Blac Chyna ended things last week… yet again.
Our hearts shattered even more when Rob Kardashian posted an adorable picture with baby Dream after the couple split. He captioned the sweet photo cuddling with his little munchkin, "My favorite pic of us."
Most of us have remained in a constant state of confusion over the past several months. It's hard to tell whether Chyna and Kardashian are broken up or mending broken bridges in their romance. They can't seem to make up their minds… leaving the rest of us on a constant emotional roller coaster.
This time, a source who opened up to US Weekly revealed Kardashian believes the split to be "the right decision."
The source said,
Rob thinks it's the right decision. Chyna has disappeared for days at a time without communicating or providing any updates. This won't end well.
Chyna was spotted even before the news broke having lunch with a mystery man. She wasn't wearing the beautiful engagement ring her fiancé gave her, either.
All of this drama never ceases to stress me out. I'm left feeling devastated, and then the hopeless romantic in me gets my hopes up for that slight chance things will end up being OK in the end.
I just want things to work out… is that too much to ask?!
Well, we do know Blac Chyna went to Amber Rose and Wiz Khalifa's birthday bash for their son Sebastian this weekend… and a small detail about Chyna's outfit may prove their love is totally dead.
The 28-year-old star was all smiles, but her engagement ring was nowhere in sight.
NOOOOOOOOOOOOOOO, CHYNA!
Could this actually be the end? What will go down this week in the Rob/Chyna saga?!
We shall see…