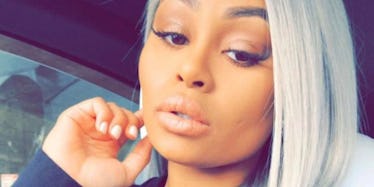 Blac Chyna Reveals How Much Weight She's Already Lost Since Giving Birth To Dream
Instagram
There are three incontrovertible truths in life:
1. Dream Kardashian is only 3 months old, somehow. 2. Blac Chyna dropped 40 pounds following her November delivery of baby Dream. 3. We're all going to die someday.
Chy shared a clip with Snapchat followers of herself stepping on the scale Tuesday night.
The caption read,
From 192 to 152.4 - Goal 130 - Summer 2017
Chyna has always been a champion of healthy eating and exercise. She famously helped ex-fiancé (?) Rob Kardashian drop enough weight to clear him of his diabetes diagnosis prior to welcoming their daughter.
The Lashed Bar owner also looked like a breathtaking land mermaid throughout her entire second pregnancy, regardless of putting on the weight of a second, tinier human being.
Chyna's focus on herself and her wellness is a smart move not only as she cares for a newborn, but navigates her separation from Rob.
Things remain tense between the "Rob & Chyna" stars. A source told Us Weekly,
Rob thinks it's the right decision. Chyna has disappeared for days at a time without communicating or providing any updates. This won't end well.
In happier times (three freaking weeks ago), Rob shared a video with fans celebrating one year of love with Chyna.
Shortly after, Chyna was spotted eating lunch with a new man and Rob retreated into the depression bungalow -- purchased and furnished by Calabasas' own Kris Jenner -- Chy pulled him out of 365 days ago.
These two are likely making a smart decision taking space from one another, but perhaps there's a future for them away from reality TV cameras and red carpets.
There's no reason these crazy kids can't move to Vermont, open a vegan ice cream shop and raise baby Dream in sweet anonymity.
Just because Kim and Kanye thrive in the spotlight (to an extent), doesn't mean it works for the whole family.
Take some time away, you crazy kids. Remember the love you shared before it became a brand.
Citations: Blac Chyna Reveals 40-Pound Weight Loss Since Giving Birth to Baby Dream (Us Weekly)