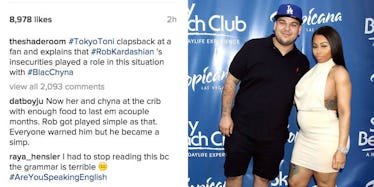 Blac Chyna's Mom Slams Hater, Says Chyna And Rob 'Will Still Be Together'
Instagram/REX/Shutterstock
Today is Sunday, December 18, aka the day of Blac Chyna and Rob Kardashian's baby special premiere.
And unsurprisingly, the drama WILL. NOT. STOP.
It all started — or came to our attention, at least — when Blac Chyna's Instagram was hacked on Saturday.
Chyna took to Snapchat to (kind of) clear up the confusion, telling her followers her "backup" Instagram is her new official account.
But just when fans collectively breathed a sigh of relief, Rob started Snapchatting...
And things got EMOTIONAL AF.
In a series of snaps, Rob told followers his fiancée and baby mama left him and took Dream with her.
Which left him behind in an empty house all decorated for Christmas.
He pans around the house, showcasing the empty living room all dolled up for the holidays. Clearly, he was very excited to be spending his first Christmas with his daughter.
Rob posted on Instagram, too (have to cover all the bases, you know).
He wrote,
I have never been this heartbroken in my life. I don't mind being so open or if anyone thinks I'm being weak but I don't play when it comes to Family and Chyna was my Family and thought we were getting married. I treated her as a Queen. My baby girl is 1 month old and Chyna took her and left this beautiful home that I just bought for us. Right before Christmas. Someone I have given my all too.
Blac Chyna had a response (duh) in a post that has since been deleted on her new Instagram in which she claimed she's "DONE!"
She wrote,
This entire year I have done nothing but help Rob! It's so SAD & PATHETIC how low he'd stoop to cover up HIS PERSONAL ISSUES! Rob is mentally ill & refuses to seek help! He self medicates which makes it worse. I have done nothing but help & loved him from the beginning!
She also maintained that she isn't hiding from Rob, writing,
He's on snapchat acting hurt he's yet to come see Dream yet! He knows where we are!
Well, it doesn't end there.
If you thought Blac Chyna's mom, Tokyo Toni, was going to sit back and watch the drama unfold, you don't know Tokyo.
According to this screenshot from The Shade Room, Tokyo personally clapped back at an Instagram troll, defending her daughter and reassuring us all that it's going to be OK.
First, she backed up Chy's claims that Rob is dealing with mental health problems, writing, "Mental illness is real."
She continued,
I have spoken to Rob and asked him to get therapy he said that he would but yet he have not seeked it yet!
Before you get too depressed, though, Tokyo has the glimmer of hope we all need in these trying times.
She wrote,
At the end of the day they will still be together I promise you. Rob just have to Mr. Insecure off of his back! Everything will be fine
I mean, if we can't believe Tokyo Toni, who can we believe, really?
Honestly, though, can we believe ANYTHING THIS FAMILY DOES? I'm honestly so confused.
But hey, maybe we should all take Tokyo's advice and chill the fuck out... at least until tonight at 9 pm when we will be getting up close and personal with the birth of Dream Kardashian for the E! special.