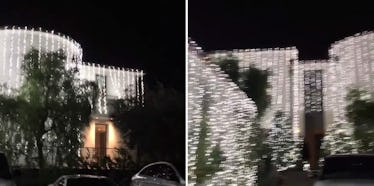 The Kardashian-West House Is Lit AF With An Overload Of Christmas Lights
Instagram
Kim and Kanye don't screw around when it comes to Christmas.
Everyone has that one house in town that is occupied by a family who goes entirely too far when it comes to holidays. For me it was this one dude who lived four blocks away from me that would hang a series of life-like mannequins from the trees in front of his house every Halloween.
Eventually the county told him to take it down but he replaced it with, and I can't overstate this enough, a fake suicide crime scene complete with dead body, gun, blood and two crime scene photographers.
As it turns out, Kim Kardashian and Kanye West are kinda like that dude when it comes to Christmas.
The video comes from Kim's BFF Jonathan Cheban, who snapped the footage and uploaded it to Instagram on Friday.
This shouldn't be much of a surprise though. The Kardashians are notoriously over-the-top when it comes to literally everything, especially Christmas.
Their yearly Christmas cards have become a Holiday staple they should give you a good understanding of why Kim goes overboard when it comes to decorating the house.
Here is one of the family just hangin' out with coooooool Santa.
This is one where the family is just hangin' out with regular Santa.
And here is one where the family hung out inside of the heart of an Elf.
Why do I get the feeling that everyone else in Calabasas is secretly furious at the Kardashians? It's like another level of keeping up with the Joneses when you live by them. I guarantee all the kids in the neighborhood secretly resent their parents for not being as holly jolly at the Kardashians are.
When you add on the over-the-top-ness that Kanye is known for, it's easy to see how the Kardashian-West home was turned into what I assume Andy Cohen's bedroom looks like.
Ho! Ho! Ho! Screw you, the rest of Calabasas!