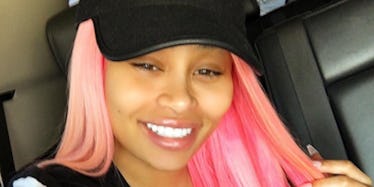 Blac Chyna Learns Nothing From Kim K's Robbery, Posts Snaps Of All Her Gifts
Instagram
OK, Blac Chyna. We need to talk.
I know you know Kim Kardashian got robbed at gunpoint after she posted an Instagram of her ring, which is reportedly worth nearly $4 million dollars.
I know you know the ring was the first thing the attackers asked for after they tied up Kim and put her in the bathtub.
I know you know all this, Blac Chyna, and yet less than 24 hours after Kim's robbery, you posted several Snapchats of all the incredibly expensive gifts you got at your baby shower.
Now, I am not trying to say it's by any means Kim K's fault she got physically assaulted, threatened and robbed just because she posted a Snapchat of her jewelry. That blame lies entirely on the armed attackers who broke the law and threatened her life.
Nor am I saying Chyna is "asking to be robbed" with these Snapchats. That would be pretty messed up.
It just seems a teensy bit inappropriate to be posting these snaps literally hours after Kim got robbed.
Especially since Kim and Chyna had been FaceTiming right before the robbery.
It's not like these Snapchats came before Chyna heard the news, either. It's reported both she and Rob found out during the baby shower and immediately made some calls to make sure Kim was OK.
Nope, these are post-baby shower snaps of all the gifts Chyna received the night before, posted late Monday morning. So Chyna was definitely well aware of what happened.
Instead of any kind of concern for Kim, she's posting about the new Louis Vuitton and Gucci bags she got? Isn't that kind of weird?
Sidebar: What kind of baby shower gifts are these? I thought baby showers gifts were supposed to be stuff for the baby? What's a baby going to do with a Gucci bag and MAC foundation?
Oh, Blac Chyna. You are so very you.