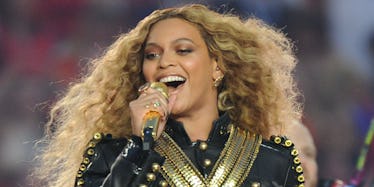 6 Beyonce Award Show Performances That Prove She'll Slay The 2017 Grammys
REXfeatures
The 59th annual Grammy Awards are almost upon us. With a little over 72 hours left until the red carpet, the anticipation for what happens during the show is reaching its peak.
Especially because just last week, after her HUGE pregnancy announcement, Beyoncé was confirmed as a performer at this weekend's big show.
Among artists like Katy Perry, Adele and The Weeknd, Beyoncé will be giving the world a taste of what she does best in one of her few live performances this year.
As a way to get you mentally prepared, we've collected some of Queen B's most epic performances.
Throwing it way back to 2005, when Beyoncé was still a part of one of the best trios ever, Destiny's Child, the group had a live performance at the World Music Awards.
They sang a medley of their number one singles, "Say My Name," "Independent Women" and "Survivor." They brought down the house.
Fast forward about four years and Beyonce was a household name.
In her performance at the 2009 Video Music Awards, Beyonce ditched her companions Kelly and Michelle and stole the show with her smash hit "Single Ladies."
Two years later at the Billboard Awards, Beyonce slayed "Run the World" and performed like it was her last show.
In the grand finale, a whole mob of dancers joined her for an epic recreation of her music video for the same song.
Later that same year, Beyoncé performed "Love on Top" at the VMAs and announced her first pregnancy.
Yes I'm crying. Why aren't you crying?
Just when we thought she couldn't get any better, in 2013, Beyoncé performed at the Super Bowl.
I am fully aware that this is not an awards show, but you can't talk about Beyoncé performances without talking about her best performance ever.
It was so good, the lights just gave out in ecstasy right after her halftime show. She literally brought the house down.
In her most dance-intensive performance to this date, B gave us a taste of her Formation World Tour at the 2016 VMAs.
Thirteen minutes of beautiful, unadulterated goodness.
How can she top herself? I don't even think its possible unless she actually gives birth to twins on live television.
But I don't think that's going to happen, so we'll just have to wait and see.