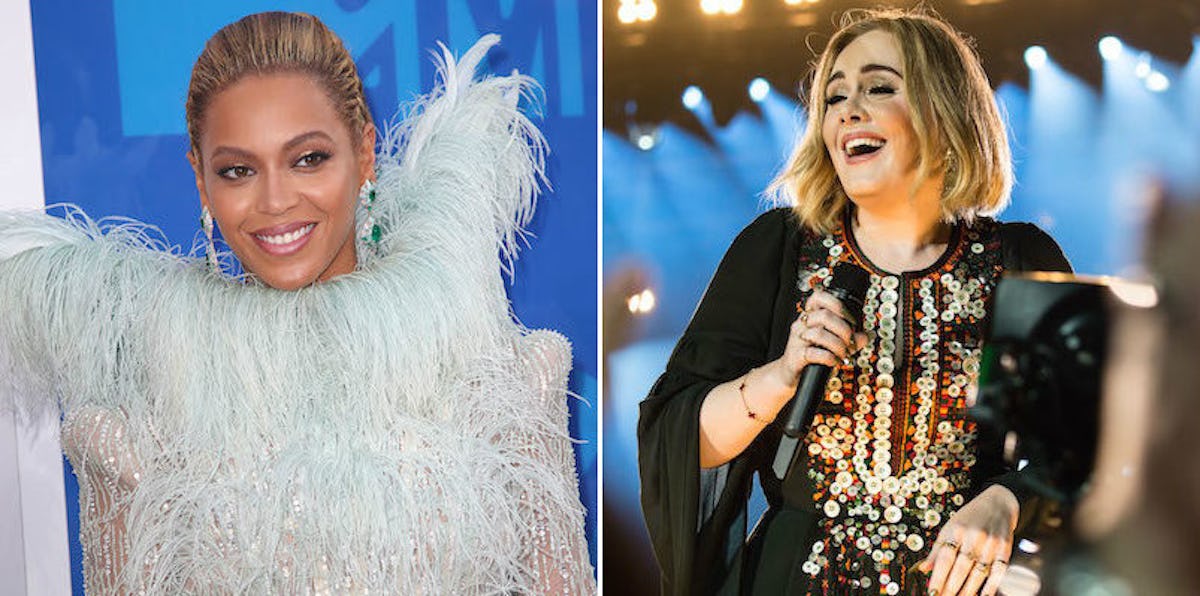 Beyoncé And Adele Are Performing The Grammys And Our Hearts Are So Full
REX/Shutterstock
This may have been a crappy year, but 2017 is already destined to be awesome.
The queens of the music world, Beyoncé and Adele, are set to perform at the Grammy Awards Show in February.
I can't think of a better, stronger or more talented pair than these two women.
Honestly, they should just combine their powers and be one.
Beydele. Adoncé. I can see it now.
The Grammys' executive producer, Ken Ehrlich, confirmed the news during a roundtable chat with Billboard magazine. When asked if Adele and Beyoncé will be performing at this year's show, Ehrlich responded,
Very few people say no to the Grammys. Over all of the years I've been doing the show, there have been three or four acts who've actually said no.
MMMMKAY, SOOOO... are we getting Bey and A or not? The boss man continued,
I can tell you that Adele and Beyoncé are not two of them. We have every anticipation that both of them will be with us in February.
OOOH YA. OHH BABY. THROW ME IN THE AIR AND CATCH ME, KEN. PUT ON A FUR COAT AND KISS ME IN A TUB OF LEMONADE.
Did I make it weird? I made it weird.
It's actually super exciting to know Beyoncé and Adele will be performing because the two artists are going head-to-head for several awards.
Queen Bey takes the lead this year with a total of nine nominations, but Adele is right behind her with five.
Both ladies are up for Album of the Year, Record of the Year and Song of the Year, so it could be anyone's game. They also are the only two artists to make all three of the top lists, so that's pretty impressive.
Ehrlich commented on this year's competition and said,
We love a good horse race. It's a fine line: We love the competition aspect of it, but it's really more — here's the cliché — the family of music. I don't know how many of those three categories they're in together that we'll announce during the telecast, but we'll probably come pretty close. When you can start with that as a foundation for a show, you're in pretty good shape.
SHIT'S GOING DOWN ON FEBRUARY 12. See you all at the Grammys!
Citations: Beyoncé and Adele Performing At The Grammys (Us Magazine)