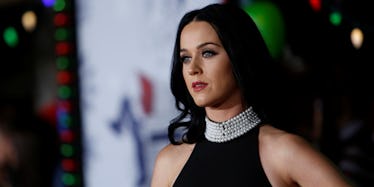 Katy Perry Might Be Debuting Her New Single At The Grammys On Sunday
REUTERS
We're just five days away from the 59th annual Grammy Awards. You know what that means, right? If not, allow me to explain.
It means we're just five days away from suffering a potential upset in just about every single music category. I mean, there are SO many talented artists up against in each other -- it's bound to happen.
But screw the negative vibes. The Grammys are one of the few times a year when you have to take a loss and just keep partying regardless of the fact Beyoncé didn't win every award.
Yes, Kanye, I'm talking to YOU.
Fortunately for us, regardless of what happens on Sunday, the wonderful Katy Perry will be in attendance to assist with the national turn up.
The 32-year-old award-winning singer has officially been confirmed for a performance on "music's biggest night," so get ready, plastic bags drifting through the wind.
It's always a pleasure to see Katy Perry take the stage at any event, but that's not why people are anticipating the "Firework" singer's Grammy performance.
Sure, we'd love for her to snatch the mic and say something wild about Taylor Swift, but that's not what all the excitement is about either.
It turns out Katy Perry could be prepping to unleash her new single on stage.
This will be the first time we've heard something fresh since the release of her fourth studio album "Prism" in 2013.
Is anyone else getting serious Lady Gaga "Joanne" vibes from the photo above?
While Katy's new single will likely be performed for the first time on Sunday, it is important to note fans may have access to the song as soon as February 10.
The singer's been hinting at that particular date for quite some time, meaning fans could be in store for some new music even ahead of the Grammys.
She's so mysterious!
The 59th annual Grammy Awards live from the Staples Center in Los Angeles are set for Sunday, February 12 at 8 pm EST on CBS.
Citations: Katy Perry might be debuting her new single at the Grammys (Mashable)