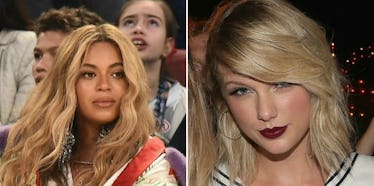 Taylor Swift's Music Video Director Accused Beyonce Of Copying "Bad Blood" & Uh, No
Getty Images/ Theo Wargo, Neilson Barnard
The Beyhive is not well today. In fact, they're ready for a brawl because of man name Joseph Kahn. He is a well-known music video director and also very opinionated. He ruffled some feathers when he talked about Taylor Swift's "Bad Blood" music video, and alluded to the fact that Beyoncé may have copied Swift in the past. WAIT, WHAT?! Did Beyoncé copy Taylor Swift's "Bad Blood" music video? I'm honestly shook over this question, and am prepared to give you all the details. Let's get started.
Joseph Kahn is one of the ultimate music video directors. According to his IMDb page, he's worked with almost all the big names in the music industry: Lady Gaga, Katy Perry, U2, Backstreet Boys, Eminem, and Taylor Swift. He actually directed four of Swift's most iconic and famous music videos: "Look What You Made Me Do," "Out of the Woods," "Wildest Dreams," and "Bad Blood." He's definitely a big deal in the music world, but his work has been overshadowed by his opinions and lack of restraint on Twitter.
He basically trolls just about everyone, especially the Kardashians. This guy DGAF. He famously loves to hate the Kardashians, but he may have overstepped with his most recent remarks about Beyoncé.
He didn't just make a snide remark; he made some strong accusations. After the "Look What You Made Me Do" video was released, Twitter accused Swifty of taking visual cues from Beyoncé. In response, Kahn full-on accused Bey of stealing parts of her "Formation" music video from Taylor Swift's "Bad Blood." Understatement: The Beyhive is pissed. During an interview with the Los Angeles Times to promote his new film, Bodied, the director said,
It's not 'Formation' at all. They try to say she's wearing a black crop top and Beyoncé wore a black crop top. But they don't realize in 2015 in 'Bad Blood,' Taylor Swift was wearing a black crop top. I really do think, by the way, that Beyoncé copied 'Bad Blood.'
It's like this guy is asking for war. The first rule of internet-ing (a word I just invented) is do not disturb the Beyhive. Kahn does not agree with this. He said in a tweet,
Why is everyone afraid of the Beyhive? What can they do? Pop out of your twitter screen and force you to wear Gucci?
BECAUSE THEY SLAY, KAHN. THAT'S WHY WE'RE SCARED.
This is T. Swift's "Bad Blood" crop top:
This is Beyoncé's formation crop top:
Obviously, different. Plus, everyone wears crop tops these days so I'm not understanding how that's grounds for accusing someone of stealing. Personally, I think they're both great artists who have their own styles. Needless to say, the Beyhive fired back.
Honestly, I think this woman wins in the debate.
Actually, my theory is that Kahn is just trolling everybody. His movie Bodied comes out this fall and he's been shamelessly promoting it. What better way to get publicity than to insult Beyoncé? This tweet by Kahn is also pretty incriminating.
Although that was more than likely a joke, his plan definitely worked. He must've known his comments would spark the Beyhive to attack — he even kind of bragged about it.
At the end of the day, Swift and Beyoncé are both extremely talented artists with dedicated fans. Bey and Swift don't seem to have any beef between them, so there's no need to create a feud that isn't there.
So, just to clarify — Did Beyoncé copy Taylor Swift's "Bad Blood" music video? Honestly, probably not. Did Taylor Swift copy Beyoncé in her "Look What You Made Me Do" video? Also, probably no. Be well, Beyhive and Swifties.