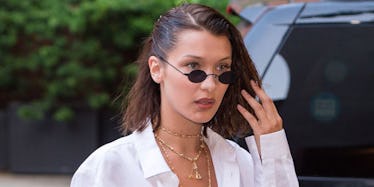 Bella Hadid Wearing Two Pairs Of Jeans At Once Proves We Don't Understand Fashion
Gotham/Getty Images)
Honestly, what is fashion? Luckily, we all have Bella Hadid to explain it to us — even if it doesn't make much sense. Hadid has positioned herself as a major style icon, and I can't quite keep up. Send help. Bella Hadid's jeans during Paris Fashion Week were confusing, to say the least.
On Tuesday, Sept. 26, the model stepped out during Paris Fashion Week with some interesting street style. She has always been known to take risks with her clothing — on and off the red carpet. While out with a friend Hadid wore her signature teeny-tiny sunglasses. IT WAS NIGHT TIME BUT WHATEVER. She also donned some sort of sporty race car driver crop top and plain black pumps. The most troubling part of this ensemble that I can't quite get over were her jeans. Well, they are definitely in the jean family, but so much more extra.
The jeans started as wide-legged pants, but were dramatically cut at the knee. Then, layered underneath, were a pair of straight-legged jeans. THIS CAN ONLY MEAN THAT BELLA HADID WAS WEARING TWO PAIRS OF JEANS. Putting on real pants is hard enough, but putting on two pairs of pants is why this woman gets paid a lot of money.
Could you imagine the outrage if a "normal" person wore these layered jeans? While I'm sure this is a very hot look on the runways right now, I can't help but get early 2000s jeans-under-dress vibes from it.
OH WAIT, WEARING JEANS UNDER A DRESS IS COMING BACK IN STYLE AND I KNOW NOTHING ABOUT FASHION.
Why can't I just be Bella Hadid? That would make things so much easier. Hadid is always and will always be the queen of Paris Fashion Week so if I can't understand then I'm clearly just wrong. She knows what's up.
Hadid is a hugely successful supermodel and isn't afraid to work her high-fashion ass off to achieve her goals.
The youngest Hadid sister has been signed to IMG Models since 2014, and is proud to say that she's been financially independent since 18. Since she's started, she has not slowed down. During an interview with Elle in July the model said,
In the past two months I've had three days off … I had 40 minutes off yesterday. I get tired.
She's admitted that a lot of her work ethic was taught by her parents. Her billionaire father, Mohamed Hadid, came to America and worked to become the giant real estate mogul that he is. Hadid said,
I saw my dad come to America and have to start fresh and build up to what he has now. He left Palestine and came to America when he was older and started making the money he has now. People can say whatever they want about him, but I know how hard he worked to get where he is now.
Hadid also has a famous mother, Yolanda Hadid from Real Housewives of Beverly Hills. Her modeling career was huge and her newest book, Believe Me: My Battle With The Invisible Disability of Lyme Disease, has received great reviews. Hadid said about her mother, 
My mom had to ride her bike to get to school every morning in Holland. There's no way I can sit on my ass and do nothing. The only thing I can do to repay them is work as hard as they did. I never liked spending my parents' money, so when I turned 17 and I was able to start having my own career, the only thing I really wanted was to be financially independent by the time I was 18, which I ended up doing.
So, will I tell one of the hardest working women in the fashion industry her pants confuse me? I certainly will not. Bella Hadid, keep slaying the game.
Check out the entire Gen Why series and other videos on Facebook and the Bustle app across Apple TV, Roku, and Amazon Fire TV.