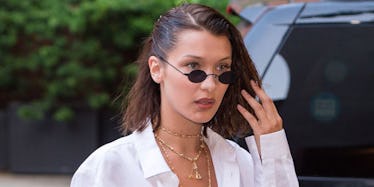 10 Of Bella Hadid's Most Incredible Looks During Paris Fashion Week
Gotham/Getty Images)
No one rocked Paris Fashion Week harder than Bella Hadid. The 20-year-old model has been causing quite the stir on social media over her incredible looks on and off the runway.
Every time I see Bella Hadid, I just think, "How are you human?" Seriously, she is goals in every way possible. These 10 looks from Paris Fashion Week show she is not only fab, but may also be a robot designed by Karl Lagerfeld.
1. Orange Is The New Black
This orange dress is everything. I'm obsessed with the long train and diamond choker. Can a normal person wear a diamond choker and look this good? Asking for a friend.
Orange is a tough color to pull off, but, of course, Hadid does it flawlessly.
2. Dripping In Dior
Small sunglasses are back in full force. I tried some on and they looked like those weird tanning goggles on my face. I bought them anyways because I'm still determined to pull off this look.
3. More Orange
Is orange the color of the season? Should I buy more orange?! I'm scared. This outfit is fire, though. I love everything about it. Bring on more tiny sunglasses and orange mini skirts!
4. High Fashion
This look legit frightens me. That's how I know it's high fashion.
5. Fur And Miu Miu
I didn't even realize this was Bella Hadid when I first saw the picture. Comparing all the pictures from runway shows, it's kind of hard to believe they all happen in one week.
How was her hair painted gold and then in a little top knot? This girl's glam squad must be bionic.
6. Paris Street Style
This is her street style look in Paris. She's on her way somewhere and still managed to put this together. I can barely manage to roll out of bed in the morning.
7. Girl Power
Hadid doesn't slay alone. She and Kendall Jenner are quite the Fashion Week duo.
8. Baring It All
She's casually sitting in underwear and is still super fab. Life is not fair sometimes.
9. Busy, Busy, Busy
OK, so I know the life of a model looks awesome, but this girl is busy. All these campaigns take a lot of time and dedication.
10. Runway Queen
Bella Hadid opened and closed the show for Alexandre Vauthier. Goals, goals, goals.
How does she do it all? Are you starting to understand my robot-made-by-Karl-Lagerfeld theory? Keep slaying, Bella!