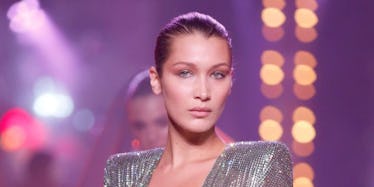 Bella Hadid Claps Back At Fans Starting Relationship Rumors With One Perfect Tweet
Thierry Chesnot/Getty Images
There's a certain amount of attention you get as a supermodel in today's world, and Bella Hadid has been feeling the spotlight's heat. After her famous split to ex-boyfriend The Weeknd, Hadid has been linked to a variety of potential partners, though none seemed to have any sticking power. In fact, for the last time, you guys, Bella Hadid and Jordan Barrett are not dating. Actually, she isn't dating anybody, so let's all just relax.
Rumors first started circulating that Hadid and Barrett were together after a paparazzi photographed the two models hanging out, laughing, and taking selfies in Hadid's New York City apartment earlier in June 2017. In the images, the two certainly looked like they were chummy, but according to Hadid, the two are just friends. Still, fans couldn't help themselves and jumped to serious conclusions the two were dating.
At the time, Hadid shut the rumors down and tweeted Barrett is "like a brother" to her, and revealed the two were actually working on an interview together. She also followed up with a message to  the photographers saying,
Whoever thinks it's OK to photograph into someones home and private space is straight up sick, sad, f*cked up. Time to move.
We agree, Bella.
Now, the 20-year-old cat-walking socialite has to defend herself against relationship rumors once again.
New photos recently surfaced of Hadid and her good pal DJ Daniel Chetrit holding hands, riling up the media yet again. This time, Hadid wasted no time setting the record straight.
She tweeted yesterday, July 31,
Just to be clear...i'm STILL not dating any of my best friends, y'all! In a committed relationship with myself & my happiness for now.
She added a prayer, ring, heart, and laughing emoji.
Sure, we're obsessed with our main girl Bella and want her to find eternal happiness and bliss with someone amazing, but for now she's just doing her own damn thang. Walking runways, taking names, and breaking hearts.
You tell 'em, girl.