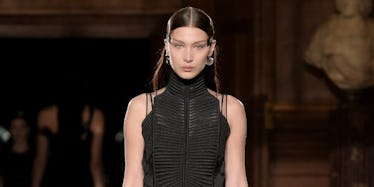 Bella Hadid Was Basically Naked In A Snapchat Vid Thanks To See-Through Dress
REX/Shutterstock
Well, that's one way to make your ex super jealous...
We posted earlier how Bella Hadid was caught publicly kissing a gentleman, Givenchy creative director Riccardo Tisci, and how it was probably the ultimate way to get back at her ex The Weeknd for moving on pretty quickly to his current girlfriend Selena Gomez.
If you're reading my article right now, The Weeknd, I'd look away. Bella is playing some WICKED GAMES.
If you write Bella Hadid and Kendall Jenner BDSM threesome fanfic, then... congratulations? Because this is basically what the above picture looks like.
Well, Bella wasn't done making The Weeknd regret his decision to literally makeout with Selena behind a dumpster.
Recently, Bella posted a NSFW video to Snapchat of her wearing a dress that's so see-through it looks like she's completely naked.
Honestly, Bella might as well have just been naked. I don't know whether I'm looking at skin or a dress in certain parts of this vid.
Meanwhile, the driver in this video is probably sweating a lot, muttering to himself, "Just play it cool, man. Eyes on the road, Gus. Don't goof on this."
What's that, you say? You want more almost-naked Bella to ogle at?
In this snap, Bella is listening to "PRBLMS" by 6LACK, specifically this verse:
...I hate you I hate you I hate you I hate you But how the fuck can you hate me When I ain't did shit, but be the real thing She know I'm the real, that'll never change
OK, so what can we potentially gather from these telling lyrics?
Well, Bella might "hate" The Weeknd and believe she's not at fault because she "ain't did shit, but be the real thing."
In addition, Hadid might think Selena knows Bella's "the real, that'll never change."
This is pretty fitting considering we reported earlier how Bella apparently believes Selena is "using" The Weeknd.
Time will tell whether or not Bella and The Weeknd will eventually be friends or if she'll keep exacting her revenge through sexy snaps.