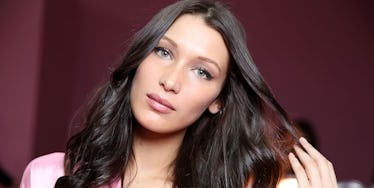 Bella Hadid Shows Off Her Entire Butt In This Sexy See-Through Dress
REX/Shutterstock
Bella, baby, what are you doing to us???
Wednesday, Bella Hadid showed the world her nipples when she posted a photo of herself wearing a see-through outfit via Instagram.
Naturally, this isn't the first time the 20-year-old model has posed for some rather scandalous photos.
Earlier this month, Bella Hadid partnered with V magazine to do a photo shoot where she recreated the iconic 1993 Calvin Klein "Obsession" fragrance ad.
Absolutely stunning.
Friday, Bella Hadid was at it again. This time, the 20-year-old posted a slew of photos from a recent photo shoot she did with Italian jewelry and luxury items brand Bulgari.
To caption the above photo, Hadid wrote,
Last night with my beautiful girls at the launch of my @bulgariofficial ambassadorship and accessories campaign! Thank you to everyone for coming out.
As you can see, for this photo shoot, Bella Hadid rocked an extremely revealing see-through dress, and you can see her entire butt in one of the shots.
D-D-D-D-DAMN, GIRL! Talk about leaving nothing to the imagination!
To caption the above photo, Gigi Hadid's sister wrote,
The diamond serpenti @bulgariofficial. u know how I love you @elizabethsulcer @alexandrevauthier
Serpenti? I can only assume Bella Hadid is referencing the necklace she's wearing in the photo shoot, but is anyone really focussing their eyes on the top half of this photo?
No disrespect to Bulgari, but the most valuable asset in the above photo isn't a necklace, it's Bella Hadid's amazing butt.
Is there anything Bella Hadid doesn't slay?
Remember when she split from The Weeknd and then had to walk right next to him while he performed on stage at the Victoria's Secret Fashion Show?
Recently, Bella Hadid actually opened up about her break from The Weeknd, and she sounded extremely mature for a 20-year-old who just experienced heartbreak.
She said,
It was my first breakup — or second, next to the horse — and so public. As an outsider, you might think I handled it so well, but it's always in your heart, and you always feel it very heavily. It'll be hard for a while. Love hurts, but you have to pull through. But I'll always respect him, and I'll always love him. Sometimes you want to be sad about it or handle it differently, but at the end of the day, you never want to burn a bridge that you've fought so hard to build.
Bravo, Bella.
Citations: bellahadid (Instagram)