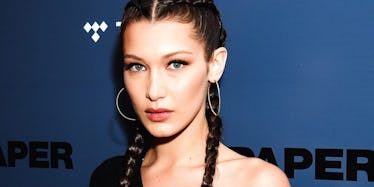 Bella Hadid Goes Topless To Recreate Kate Moss' Iconic Calvin Klein Ad
REX/Shutterstock
How old were you when Kate Moss' steamy Calvin Klein ads from 1993 were all the talk? Bella Hadid wasn't even born yet.
That didn't stop the 20-year-old supermodel from channeling her inner Kate Moss during her most recent photo shoot for V Magazine's spring 2017 issue.
During the NSFW shoot, Hadid poses completely topless as she recreates Kate Moss' visually striking 1993 Calvin Klein "Obsession" fragrance ad campaign.
Perhaps the best part about the shoot is the fact Bella Hadid was able to work with Mario Sorrenti, the same photographer responsible for capturing Moss' iconic shoot.
Here's one of the original photos from Calvin Klein's 1993 "Obsession" fragrance ad campaign with Kate Moss.
Bella Hadid recently recreated the visuals from the iconic ad campaign during a photo shoot for V Magazine's spring 2017 issue.
She makes it look so damn easy!
Next, she'll have to do us all favor and recreate this for old times' sake...
The one thing Bella Hadid probably won't be able to recreate is the dysfunctional relationship Moss and Mario Sorrenti had. The two apparently dated back in 1993 when he snapped the photos.
According to an interview Kate Moss had with SHOWstudio back in 2015, things just got weird between them.
He was just like, 'I can see it, it's "Obsession." It was obsession—he was obsessed, I'd wake up in the morning and he'd be taking pictures of me and I'd be like, 'fuck off.' I laid like that for like 10 days. He would not stop taking pictures of that.
Shortly after the sexy ad campaign was shown to the world, Moss and Sorrenti broke up.
We split up after that. When you're in a relationship with a photographer and they start abusing that relationship and being like, 'I want you to do this, and I want you to do that,' and I'm like, 'No.' I didn't want to work all the time, but he'd be like 'Get up on the roof, take your clothes off,' and I would think, 'Fuck off!'
Mario Sorrenti is obviously SUPER talented, but I'm sure Bella Hadid is relieved she didn't have to wake up to a camera lens in her face every morning just to get the perfect shot!
Bella Hadid's shoot with V Magazine and Mario Sorrenti hits newsstands on March 9.
Citations: Bella Hadid Frees the Nipple in NSFW Photo Shoot and Recreates Kate Moss' Calvin Klein Ads (E! News)