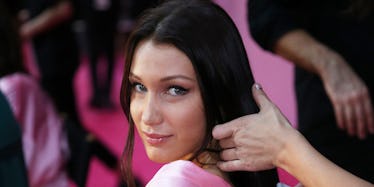 Bella Hadid Shows Off Her Nipples (Again) In See-Through Outfit On Instagram
REX/Shutterstock
Bella Hadid can do it all, folks!
Though she's still just 20 years old, Bella Hadid has seemingly done everything when it comes to modeling and innovating.
In addition to recently walking in her first Victoria's Secret Fashion Show, Hadid has her own fashion line and has amassed over 10 million followers on Instagram.
Seriously, is there anything this woman can't do? Like, Selena Gomez is clearly fire, don't get me wrong, but I often wonder what really happened between Bella Hadid and The Weeknd.
Recently, Hadid opened up to Teen Vogue about the split, and she offered some real insight into her current mood.
Speaking on the breakup, she said,
It was my first breakup — or second, next to the horse — and so public. As an outsider, you might think I handled it so well, but it's always in your heart, and you always feel it very heavily. It'll be hard for a while. Love hurts, but you have to pull through.
Damn. Bella Hadid added,
But I'll always respect him, and I'll always love him. Sometimes you want to be sad about it or handle it differently, but at the end of the day, you never want to burn a bridge that you've fought so hard to build.
This is all well and good, and extremely mature, of course, but you know what really helps someone as gorgeous as Bella get over a tough breakup?
How about posting a photo of herself on Instagram wearing a see-through outfit and showing off her nipples and breasts?
As you can see in the photo of Hadid and ASAP Rocky above, the 20-year-old clearly has no problem showing off her nipples for the camera, and she did it again Wednesday morning.
Judging by the caption for the above photo, it appears this scandalous shot is part of a cover story for CR Fashion Book. Can't wait to read!
Can't get enough of Hadid's nipples? Well, check her out in this photo shoot she recently did for V magazine's spring 2017 issue.
The above photograph is a recreation of the iconic 1993 Calvin Klein "Obsession" fragrance ad campaign with Kate Moss.
Naturally, Bella Hadid brought her own swag to the party and crushed the shoot.
Like I said, is there anything Bella Hadid can't do?
Citations: bellahadid (Instagram)