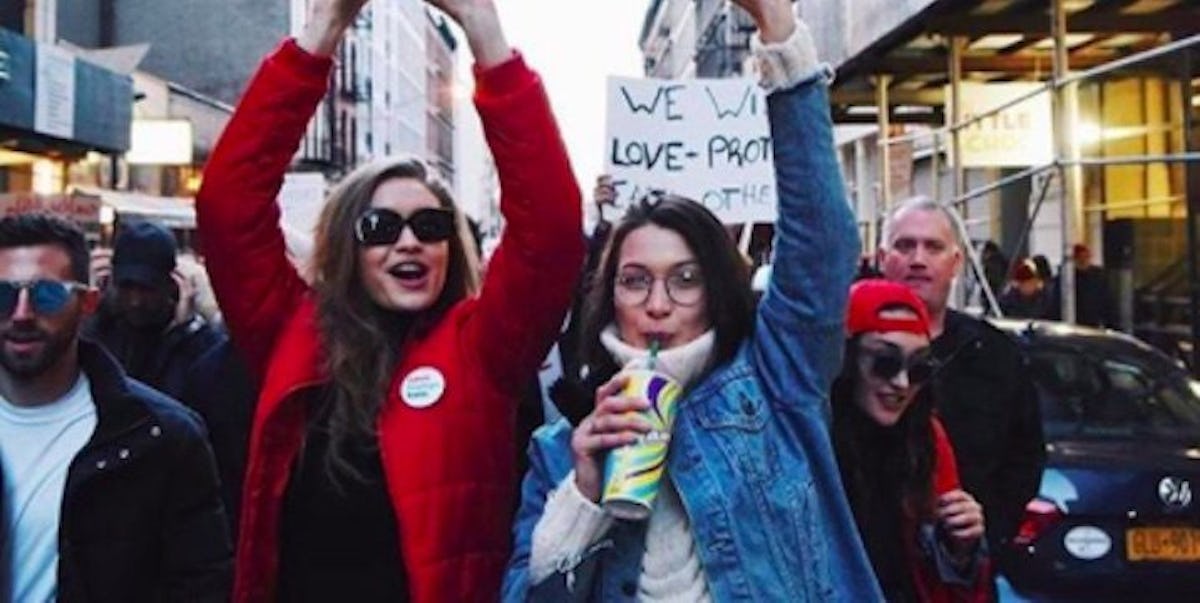 Fans Praise Bella And Gigi Hadid For Protesting Immigration Ban In The Streets
Bella and Gigi Hadid spent their weekend in the streets, joining thousands of New Yorkers protesting President Trump's recent immigration ban.
On Sunday, 20-year-old Bella Hadid posting a photo on Instagram of her and her sister marching in the "No Ban, No Wall" protest in Manhattan.
Bella carried a sign that said,
We are all Hindus, Buddhists, Muslims, Atheists, Christians, Jews.
One letter of each faith was highlighted to spell out the word "human."
Marchers gathered at Battery Park, which looks over the harbor with a clear view of the Statue of Liberty, to oppose Trump's recent executive order that bans the entry of people from seven predominantly Muslim countries from entering the US.
The order also indefinitely suspends the entry of refugees fleeing the ongoing war in Syria, though Trump said Christian refugees will get priority entrance, which many argue violates constitutional rights.
Protests erupted across the nation over the weekend, opposing what has been dubbed the "Muslim Ban," as well as Trump's proposal to build a wall along the Mexican-American border.
Many gathered at airports, demanding that those who had been detained immediately following the ban be released.
Bell and Gigi Hadid's father, Mohamed Hadid, does not consider himself a devout Muslim but was born in Palestine, a predominantly Muslim region.
Gigi is also dating British-Pakistani singer Zayn Malik, who does consider himself Muslim.
Fans of the Hadids were happy to see the models marching in solidarity with immigrants and refugees.
The sisters join many other celebrities who have spoken out against the ban this weekend.
At the 2017 Screen Actors Guild Awards on Sunday night, both Ashton Kutcher and Muslim-American actor Mahershala Ali delivered emotional speeches denouncing the order.
Actors like Ellen Page, Alia Shawkat and Chloë Grace Moretz also joined protests at LAX and JFK.
And other celebrities, like Ellen Degeneres, Chrissy Teigen, Kim Kardashian and many more used their widespread platforms on social media to criticize the controversial ban.
Celebs, they're just like us — outraged by this blatant disregard for humanity and civil liberties.
Citations: Gigi and Bella Hadid Protest Immigration Ban in Streets of NYC (Entertainment Tonight)