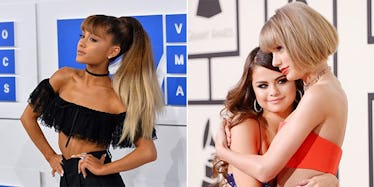 Ariana Grande Beats Taylor Swift For Most IG Followers After Selena Gomez
REX/Shutterstock
Another reason for Taylor Swift to release her album and enter relevancy again: She's losing her standing on social media!
The 1989 singer was previously the second most-followed person on Instagram, but as of today, that honor belongs to Ariana Grande.
Given that social media pretty much measures how much young fans want to connect to their favorite artists nowadays, this shift in Insta-standings is a pretty big deal.
Swift is still standing tall in third at an impressive 98.3 million followers, but Grande has just pushed ahead of her with 98.6 million.
Still, both ladies' Klout scores pale in comparison to fellow pop starlet Selena Gomez, who boasts a whopping 112 million followers — the only personal account on the site with a six-digit follower count.
Obviously all three of these pop stars are some of the biggest celebrities on the planet right now, so it's no wonder they make up the top three, but it's also kind of clear why Ariana might have just edged out Taylor, given their different social media styles.
Though a few years back Taylor Swift would post to her Instagram constantly, with attention-grabbing photos that featured her famous girl squad, she has notably been a lot more silent online recently.
I would trace that shift back to this summer, when Kim Kardashian famously posted a Snapchat video revealing Swift had been in conversation with Kanye West about a song she had publicly decried.
Since that fateful social media disaster, Taylor has been much more selective with the posts she makes on Instagram, and they've been fewer and farther between.
Now, most of her photos are promo for her friends' or her own projects, or birthday wishes.
By contrast, Ariana Grande posts to her Instagram a few times a day, and the content is much more diverse.
Since she's on tour, most of her recent posts are photos of her performing, but she will also throw in more humorous or personal posts to make her account more welcoming.
Another major factor that probably tipped the scales in Ari's favor: Grande will often post her stance on political issues, such as Trump's recent revocation of trans rights or a string of photos from the Women's March.
Swift, on the other hand, has remained noticeably mum on any political topics this election cycle, though she did send a quick tweet in support of the Women's March.
Whatever the reason for the IG power shift, it looks like Ariana is gaining followers pretty quickly. Watch out, Selena!
Citations: Ariana Grande Just Beat Taylor Swift In A Pretty Big Internet Honor (Refinery29)