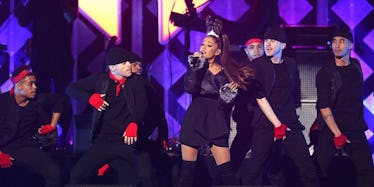 Ariana Grande Concertgoers In Manchester Tweet About The Explosion
Getty Images
At least 19 people were killed and 50 injured following an explosion at an Ariana Grande concert in Manchester, United Kingdom on Monday night, according to Greater Manchester police and the Associated Press.
UPDATE: Manchester police revealed Tuesday morning that at least 22 people are dead and about 60 injured after a lone bomber detonated an improvised explosive device outside an Ariana Grande concert in Manchester, England. The attacker is deceased and police believe he acted alone. According to CNN, authorities are investigating whether the attacker was part of a broader terror network.
Here's how you can help victims of the attack, which is the deadliest Britain has seen since the 2005 London bombing.
Grande was not injured at the concert and tweeted after the event: "broken. from the bottom of my heart, i am so so sorry. i don't have words."
EARLIER: The explosion occurred just before 10:35 p.m. local time. Police said they are treating it "as a terrorist incident until police know otherwise." UK authorities suspect the explosion may have been a suicide bombing, officials are saying, according to NBC News.
Elite Daily has reached out to Ariana Grande's team for more information, but did not hear back by the time of publication.
Ariana Grande's rep told E! News, "Ariana is okay. We are further investigating what happened."
Bia, who was the opening act at the concert, said on Twitter that she is "okay" as well.
Apparent concertgoers tweeted from the Grande concert about the explosion in Manchester.
Many of the tweets include assumptions and rumors that have not been confirmed by authorities.
One apparent concertgoer said the explosion happened "right at the end" of the Grande concert.
There was "smoke on the corridors and blood."
Video reportedly from the Manchester Arena following the explosion shows confusion inside.
Twitter user Rhianna Burke said it was the "most horrific thing that's happened in my entire life."
Burke posted video showing the apparent evacuation from the Grande concert.
Twitter users said there was panic inside the Manchester Arena after the explosion.
"Words cannot fully describe how traumatic and shaking the whole ordeal was," one apparent concertgoer wrote on Instagram.
The Instagram user said there was "a loud bang that came from the right hand side of the Arena," which was followed by "a silence and suddenly there was a manic rush and screaming to get to the exits."
People in Manchester are also using the hashtag #roomformanchester to help fans to find shelter.
Greater Manchester police is working to provide a number for those worried about loved ones who were at or near the concert.
Citations: At Least 19 Killed in Possible Suicide Blast at Manchester Arena Concert Featuring Ariana Grande (NBC News), Ariana Grande Fans Evacuated From Concert After "Serious Incident" Inside Manchester Arena (E!)