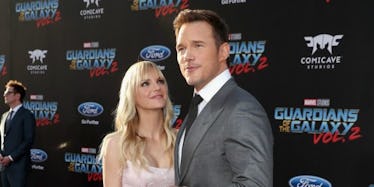 Anna Faris Reveals Truth About Her Relationship With Chris Pratt & It Will Ruin You
Getty Images/ Rich Polk
It was shocking when Anna Faris and Chris Pratt publicly announced their separation after eight years of marriage. That's why people have been questioning the role Pratt will have in Faris' upcoming book, Unqualified. Anna Faris' book quotes about Chris Pratt are kind of what you make them. Looking at this particular excerpt below, it's not exactly positive or negative towards Pratt. Well, it's kind of devastating that the cutest couple ever were apparently not best friends. Like, WTF? However, Faris writes a lot about growing as a person and staying positive for the future. After Pratt posted about their separation on Facebook on Aug. 6, I think we could all use something uplifting. He said in the post,
Anna and I are sad to announce we are legally separating. We tried hard for a long time, and we're really disappointed. Our son has two parents who love him very much and for his sake we want to keep this situation as private as possible moving forward. We still have love for each other, will always cherish our time together and continue to have the deepest respect for one another.
Seriously, so sad. An adapted essay from Unqualified was featured in the October issue of Cosmopolitan. In the essay, she explores friendship outside of her marriage with Chris Pratt and finding her own way in the world. She wrote,
I was once told that I didn't need a tight group of girlfriends because Chris should be my best friend. But I never bought that ... The idea of your mate being your best friend — it's overhyped. I really believe that your partner serves one purpose and each friend serves another.
SINCE WHEN DOES CHRIS PRATT NOT MAKE AN ACCEPTABLE BFF. OK, I get it. I know for a fact my boyfriend doesn't like drinking rosé while watching John Tucker Must Die. Plus, a hubby can't replace a kickass group of girlfriends. Faris was always a self-proclaimed "guys' girl," but now thinks that was "so lame" of her to think.
In my 20s, I thought it was cool to say I was a guys' girl. I didn't realize until later how lame I sounded, bragging as though having a lot of girlfriends was a bad thing. Back then, I thought having the approval of my stoner guy friends was of greater value than having the approval of beautiful blonde sorority girls, so I touted my male friends as if my association with them spoke to how cool I really was. I was selling my own gender down the river, and I wasn't even getting any fulfillment from the relationships with those dudes.
Faris' split with Pratt has obviously been a huge learning experience. She now understands and appreciates the value of female friendships. In the essay, she explains that it "takes vulnerability of spirit to open yourself up to other women in a way that isn't competitive."
That's why it took me longer than it should have to realize just how important female relationships are ... Today, I'm lucky to have a handful of women I count as confidantes. Among them, Allison Janney, my co-star on Mom, Meghan, a friend from my hometown of Edmonds, Washington, and Kate, a dear childhood friend who I probably have nothing in common with anymore — at least from an outsider's perspective — but who totally gets me because... history.
Allison Janney spoke about Anna Faris and Chris Pratt's divorce during an interview with E! News.
During the TV Academy's Performers Peer Group Celebration event in Beverly Hills, the actress said,
Her private life she keeps pretty much to herself. She comes to work and gets the job done. She's great … She's got a big smile on her face and she's getting through it.
Although I'm probably more devastated than I should be about Anna Faris and Chris Pratt separating, I'm glad Faris is able to do some soul searching and learn more about herself. There's a silver lining for you.