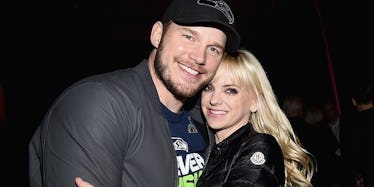 Anna Faris Speaks Out For First Time Since Split From Chris Pratt & It's Emotional
Michael Buckner/Getty Images for Maxim
Anna Faris and Chris Pratt are breaking the internet all over again. On her Unqualified podcast, Anna Faris spoke out after her Chris Pratt split in an emotional message. It's the first time the actress is breaking her silence since the couple announced they are legally separating on social media.
Elite Daily reached out to Faris and Pratt's team for comment on the initial announcement, but did not hear back by time of publication.
The actress showed gratitude in her podcast segment, saying,
Hey, dear listeners. I just want to thank you all so much for all the love I've been receiving, and I truly love you.
Later in the podcast episode, she focuses on the value of relationships and holding onto self-worth and positivity.
Then Faris dropped an emotional bomb on us all, mentioning her own personal mistakes while sharing solid relationship advice. She mentions,
I made that mistake, I think, a little bit feeling like, 'I'm checking my relationship off the list.' The final advice I could give you would be know your worth, know your independence, know that you're young, and there's so many people out there. There's so much life experience. I hope you get to live it all and experience a whole lot of people. Life is too short for you to be in relationships where you're not feeling like this isn't fully right, or somebody doesn't have your back or somebody doesn't value you in every way.
Anna, you're melting our hearts with your honest advice. I hope you've always felt valued and appreciated by Chris Pratt. He couldn't be anything other than perfect, right?
The pair first announced their separation on Sunday, Aug. 6 with a statement posted to Pratt's Facebook page. The statement read,
Anna and I are sad to announce we are legally separating. We tried hard for a long time, and we're really disappointed. Our son has two parents who love him very much and for his sake we want to keep this situation as private as possible moving forward. We still have love for each other, will always cherish our time together and continue to have the deepest respect for one another.
Sending all the best to these two, whether they end up getting back together or not.