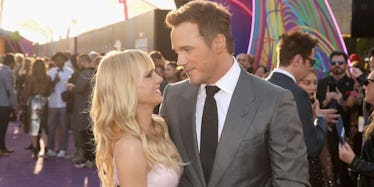 Tiny Detail On Anna Faris' Twitter May Have Been A Clue About Chris Pratt Split
Jesse Grant/Getty Images
The internet has done some digging ever since the news of Anna Faris and Chris Pratt's split, and its discovered that before the split was announced on Sunday, Aug. 6, Faris liked a tweet about divorce. Now, people are theorizing that this was a clue that she and Pratt were splitting up. Elite Daily reached out to Pratt and Faris' teams for comment on the split, but did not hear back by time of publication. The tweet read,
So far the hardest part of divorce is not having anyone to yell with when the printer isn't working.
Now, this is just a funny tweet in general, so it's definitely possible that Faris just thought it was funny. Maybe she's even friends with Kelly Oxford, the author of the tweet (who also happens to be an author). But there are obvious parallels to the tweet's content and Faris' latest marriage news, so I can see why people are taking this as a sign that there was trouble in Pratt/Faris paradise.
Considering the fact that everything with Pratt and Faris seemed to be going great up until their split, it's no wonder fans are looking for signs they could have missed about one of Hollywood's favorite couples. The tweet was posted on Sunday, July 30, and it's Faris' most recently liked tweet, according to the "likes" section of her account.
Faris and Pratt took to social media themselves to announce their split after eight years of marriage. They posted nearly identical statements on Faris' Twitter and Pratt's Facebook. Faris' tweet said,
We are sad to announce we are legally separating. We tried hard for a long time, and we're really disappointed. Our son has two parents who love him very much and for his sake we want to keep this situation as private as possible moving forward. We still have love for each other, will always cherish our time together and continue to have the deepest respect for one another.
Faris and Pratt got married in 2009 and have a 4-year-old son named Jack. Throughout their marriage, they did cameos in each other's work. They both appeared in the 2011 comedy Take Me Home Tonight, and Pratt played a supporting role in Faris' 2011 rom-com What's Your Number, co-starring one of the other Hollywood Chris actors, Chris Evans. Pratt also played Faris' love interest in a couple of episodes of her comedy Mom, currently airing on CBS.