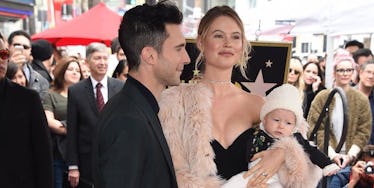 Adam Levine And Behati Prinsloo's Baby Dusty Rose Makes First Public Appearance
REX/Shutterstock
Adam Levine and Behati Prinsloo decided to debut their almost 5-month-old daughter, Dusty Rose, in total Ryan Reynolds-Blake Lively fashion — while celebrating Levine's star on the Hollywood Walk of Fame.
I mean, if your first outing as a child celebrity isn't on the Hollywood Walk of Fame, does it even count?
On Friday, the 37-year-old singer and "The Voice" judge took that coveted celeb rite of passage and earned his star along Hollywood Boulevard.
His wife, Victoria's Secret Angel Behati Prinsloo, was there to support him in his moment of glory, but -- sorry, Adam -- it was his daughter who totally stole the spotlight.
Behati took to Instagram to gush about her husband and "best dad."
She wrote,
A very surreal and amazing day for our family. I'm so proud of all your accomplishments, but mostly I'm proud of the amazing person you are. Best dad best husband, we love you.
It seems Adam has learned a thing or two about being a new dad. Back in October, he told Ryan Seacrest,
I've been a parent for three weeks; what do I know? I don't know anything, but it's kind of part of the beauty of it, honestly. There are a lot of instincts, a lot of things that kind of kick in and switch on. It's a beautiful experience.
The gorgeous couple gave birth to their first child in September and were quick to share photos of her on social media.
Friday, however, marked Dusty's public debut -- or as Behati put it, her "tiny little cabbage patch kid found the camera today" -- and the family of three could not have looked happier.
Adam's "Voice" co-stars Gwen Stefani and Blake Shelton were also in attendance to root their friend on.
But honestly, when you have photos of an adorable baby dancing on her dad's freshly commissioned star, it's kind of hard to care who else was in the audience.
Back in December, fellow hot celebrity power couple Ryan Reynolds and Blake Lively also debuted their daughters on the Hollywood Walk of Fame.
This was a pretty huge deal for the notoriously private couple, who kept their second daughter's name secret for almost three months. (We now know James' little sister is named Ines.)
Surprisingly, George Clooney doesn't have a star on the Walk of Fame. (Literally, how?)
Maybe he's waiting so he and Amal can debut their babies once they arrive in June.