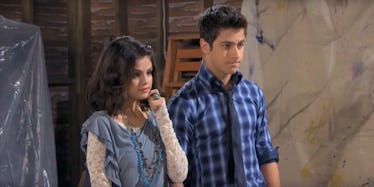 11 Celebrity Co-Stars From Your Childhood Who Are Still Best Friends Now
Disney Channel
I hate the news that Drake Bell wasn't invited to Josh Peck's wedding. I loved the sh*t out of that show and I hate this. So, to get my mind off the tragedy, and maybe re-establish some hope that the brothers from another mother will settle their differences, here's a list of celebrity co-stars who are still best friends.
My greatest hope for this article is that Josh Peck reads it, goes back in time, and invites Drake Bell to his wedding.
But if that doesn't happen, I hope we can just enjoy a nice little walk down memory lane here and appreciate not getting our hearts ripped out by our former heroes.
Selena Gomez and David Henrie from Wizards of Waverly Place
The "magic" of Wizards of Waverly Place may have been a strictly on-camera phenomenon, but the real magic – family love, true friendship, etc. – is stronger than ever among the cast members today.
David Henrie, who played Justin Russo on the sitcom, recently got married and the whole Wizards cast was there – including Selena Gomez.
Ben Savage and Rider Strong from Boy Meets World
Boy Meets World was the best. Sometimes funny and light-hearted, other times sober and heart-wrenching, the ABC series ran for eight years and was the quintessential sentimental coming-of-age story for a generation.
I'm getting kind of emotional thinking about it, considering the circumstances.
Like if Cory did to Shawn what Josh has now done to Drake, a big part of me would never get over that.
Damn.
Luckily, I don't think there's anything to worry there about because Cory and Shawn's friendship is legendary, but not as legendary as that between Ben Savage and Rider Strong, who played the lifelong best friends.
When Savage re-opened the Boy Meets World universe to welcome in a Disney Channel sequel series, Girl Meets World, Strong was only one of several OG actors to be invited back.
And let's not forget Topanga. At a 2013 reunion of the original cast, Danielle Fishel, who played the series love interest, said of Savage, "There is something so special about the bond we share ... He really does feel like my husband. He will always be my first husband. Nothing can break that bond that we have."
Look at this video of them all reuniting. Good things do happen!
Miranda Cosgrove and Jeanette McCurdy from iCarly
Carly and Sam were the perfect BFFs on Nickelodeon's iCarly -- and they weren't faking.
Miranda Cosgrove and Jeannette McCurdy have stayed in touch since the series ended in 2012 and even went to Tokyo Disney together earlier this year.
I'm sure Freddie, aka Nathan Kress, would've been there, but he's too busy being married -- which is weird.
But you know the whole cast turned out for his wedding.
Will Smith and Alfonso Ribeiro from Fresh Prince
Will Smith has done a lot of things since starring in The Fresh Prince of Bell Air, including getting nominated for several Grammys and Academy Awards and having two famous children, but let's be real: he's always gonna be from West Philadelphia (born and raised) to us.
And he doesn't seem to mind – keeping in touch with his costars, especially his scene-stealing TV cousin Carlton, aka Alfonso Ribeiro.
If you haven't seen The Graham Norton Show clip of Smith, Rubiero, and DJ Jazzy Jeff reuniting to jam out "Parents Just Don't Understand," just listen to Ribiero describe their awesome friendship in an Access Hollywood interview himself:
[I've known] Will… maybe 24-25 years. Something like that. It's been a long time…We've spent many years working together, hanging together, playing together, you know, having families together…[Will is] just a wonderful individual and we have such a great time whenever we're together.
Aww.
Ariana Grande and Victoria Justice from Victorious
Victorious was so much fun to watch because the cast was so talented and they all seemed like BFFs.
Co-stars Ariana Grande and Victoria Justice reunited with the rest of the cast back in 2015, and Grande even teased a future reunion on Twitter earlier this year:
A 2016 interview Grande did with Ryan Seacrest was interrupted by messages from a Victorious cast group chat, reminding us all that they're still BFFs.
Drake and Josh don't even need a group chat -- they just need a chat! Please!
The whole cast of High School Musical
High School Musical was a lightning-in-a-bottle kind of phenomenon, and things like that tend to bring the people involved in them together. HSM is no exception.
Last year, Zac Efron tweeted this throwback pic with a heartfelt message. (Peep his face in the reflection of the photo.)
And when Ashley Tisdale got married in 2014, co-star Vanessa Hudgens was in her bridal party. 
Those two also recently reunited for a duet of "Ex's and Oh's," and it sounds so good it makes you wish they got to sing together more in the movies.
And Tisdale and her on-camera brother, Lucas Grabeel, also came back together recently to reprise their iconic "What I've Been Looking For." (Although why they did the slow, boring Troy and Gabriella version instead of their version is beyond me.)
And this isn't even half the times this cast has reconnected over the years. It warms your heart to know that HSM was as important to them as it was to all of us.
OK, I feel a little better now.
Knowing that Zac Efron still looks through old photos from High School Musical and takes pictures of them on his laptop -- I can hold on to that.
But broken hearts take time to heal, so pour one out for the best brothers on TV.
I'll miss you.