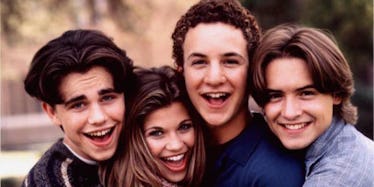 Here's What The Entire Original Cast Of 'Boy Meets World' Looks Like Now
Oh man, if this new photo of the original "Boy Meets World" cast altogether again doesn't give you all the feels, then you clearly didn't grow up watching ABC's TGIF programming block in the '90s. (Hint: I did.)
Yup, according to BuzzFeed, the cast has never been fully reunited in one place until now, and it's crazy to see what everyone looks like. Many of the cast members appeared on "Girl Meets World," Disney Channel's sequel series to ABC's original show.
But, all the original cast members finally appeared in the same place at the same time to film the season three finale of "Girl Meets World," Variety reports. Apparently, they're all there to help the main character, Riley, make a difficult decision.
Two regulars from later seasons on "Boy Meets World," Matthew Lawrence and Trina McGee, were unfortunately not present.
Check out the epic cast photo below, see what everyone looks like and reminisce in its "Boy Meets World" goodness.
Ben Savage, who played the main character Cory Matthews in "Boy Meets World," uploaded the photo and captioned it "family reunion."
In case you can't remember who everyone is and need a reminder, here are all the names of the "Boy Meets World" actors and their characters in the photo:
Shawn (Rider Strong) and Harvey (Danny McNulty)
Alan (William Russ), Amy (Betsy Randle) and Minkus (Lee Norris)
Eric (Will Friedle) and Jonathan (Anthony Tyler Quinn)
Morgan (Lindsay Ridgeway on the right and Lily Nicksay)
Cory (Ben Savage) and Mr. Feeny (William Daniels)
Two stars of "Girl Meets World," Maya (Sabrina Carpenter) and Riley (Rowan Blanchard), and Topanga (Danielle Fishel)
Man, I can't believe how similar everyone looks (and how amazing Lily Nicksay looks, damn). Sure, everyone's a bit older, but they're still the same people who created the amazing characters we all grew up watching.
I'm glad to see Danny McNulty made the photo too. He played a minor character in "Boy Meets World," a hilarious greaser bully named Harvey, but also joined the cast of "Girl Meets World," hence why he's there.
Now if you'll excuse me, I'll be watching every episode of "Boy Meets World," which I totally don't have on DVD. (Hint: It totally do.)
Citations: The Original "Boy Meets World" Cast Members Reunited For This Epic Photo (BuzzFeed), 'Boy Meets World' Cast Reunites for 'Girl Meets World' Finale (Variety)