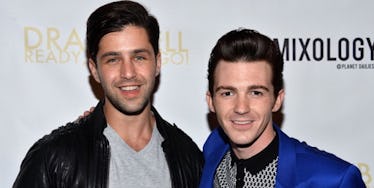 Josh Peck Didn't Invite Drake Bell To His Wedding And Our Childhoods Are Ruined
Amanda Edwards/GETTY
Let's be real, guys: Facts are facts. Santa Claus does not exist, The Tooth Fairy is not the one who left you money under your pillow at night, and Squidward has a schlong in the middle of his face.
Our childhoods have been ruined countless times before, but never have we felt such utter despair as we do today.
This past Saturday, one half of our favorite Nickelodeon "brotherly" duo, Drake and Josh, got married in Malibu, California.
That's right, Josh Peck wed his longtime girlfriend Paige O'Brien in what (according to Instagram) looked like a beautiful outdoor ceremony.
While the festivities included some of Peck's former costars like John Stamos, there was one person notably missing from the groom's guest list. You guessed it, his on-screen brother, Drake Bell!
(*whispers "escandaloso" under my breath*)
Shockingly, Bell isn't in any of the pics from the event, and E! Online reported he tweeted and deleted three separate times this past weekend, the first time saying "When you're not invited to the wedding the message is clear....," the second time saying "Loyalty is key," and the third third "ALWAYS remember where you came from."
If you ask me (you didn't), all of these seem like pretty salty, direct subtweets aimed @ItsJoshPeck , which is weird considering the day before Peck's wedding, Bell tweeted this nostalgic throwback of the two of them with the caption "Studs!!," and just last year Bell made a cameo on Peck's show Grandfathered. 
Clearly, we're missing something here. Maybe this is all an elaborate Drake and Josh-style joke we're not in on? Maybe we'll wake up tomorrow and find out that Drake was actually Josh's best man?
Or maybe this really is the end of Drake and Josh as we know them.
All we know for sure is that Josh better have invited Miranda Cosgrove/Megan, otherwise sh*t will surely be hitting the fan.