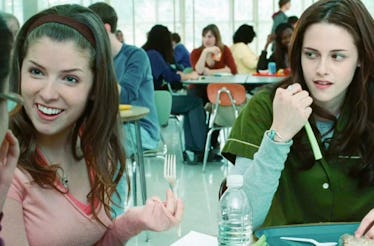 10 Celebrities You Totally Forgot Were In The Twilight Saga
Summit Entertainment
Whether or not you're a Twilight fan, there's a good chance you're familiar with the iconic franchise. When the first book in the series written by Stephenie Meyer was released in 2005, the clouds parted, birds sang, and suddenly everyone wanted to get bitten by Robert Pattinson. While Pattinson and Kristen Stewart became household names for playing the star-crossed lovers, there were actually a lot of other celebrities who were in the Twilight movies. It's time to head back to the late 2000s for a deep dive into the franchise's forgotten faces.
Granted, the series was kind of distracting because hello? A grumpy hot vampire falls for an "ordinary" girl and they go on to have animalistic vampire sex and make a half-human baby and live happily ever after? Yes, please. Add in the folklore and superpower aspects — not to mention a few love triangles — and you had yourself a classic franchise (which is now streaming on Netflix, BTW).
Even though Edward and Bella (and Jacob, played by Taylor Lautner, of course) were the central characters of the films, there were a lot of supporting people (and vampires) who helped propel the story. Here's a rundown of some of the celebs you probably forgot had a role in the films. Boy, don't you just love seeing them in 2008 fashion?
The Twilight saga is streaming now on Netflix.
This article was originally published on