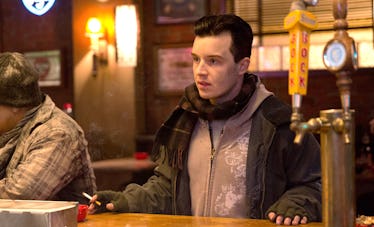 'Shameless' Star Noel Fisher Gets Real About Whether Mickey Will Be Back – EXCLUSIVE
Showtime
Shameless just kicked off its eighth season this past Sunday, and while it was great to see all the Gallaghers back together again, there was one fan-favorite character who was noticeably absent from the premiere. After last season, fans are still unsure about whether Mickey Milkovich is actually gone from Shameless for good or not, but actor Noel Fisher has some bad news: It sounds like there aren't any plans to have Mickey return. Elite Daily caught up with Fisher, who is currently starring in the new Iraq War miniseries The Long Road Home, to find out if we're ever going to see Mickey reunite with Ian.
Unfortunately for Mickey fans and all the Gallavich shippers out there, it sounds like Mickey is off the show for good. When I asked if we may be seeing Mickey return to Shameless, Noel Fisher said that to his knowledge, it's not happening. Apparently, that emotional goodbye at the Mexican border in Season 7 really was Mickey's final moment on the show. But Fisher did offer up some hope to fans, saying that even though there aren't any plans for Mickey to return right now, there's always the chance that the writers could decide to bring him back later on:
There's always a possibility [for Mickey to return], but as far as I know that's not happening. But you know — he could sneak into Mexico, so he could sneak out of Mexico.
So what I'm getting from this info is that Mickey will not appear in the currently airing Season 8 of Shameless (which has already concluded filming), but the door may still be open for his return in future seasons.
I guess that means that at least for now, Mickey's story ends with him escaping jail and fleeing to Mexico. The character became an unexpected fan favorite early on when he came out as gay and entered into a relationship with Ian Gallagher. Though oftentimes volatile and explosive, Mickey and Ian's relationship became one of the most beloved aspects of the show by many fans, but the two parted ways, seemingly for good, last season, when Ian decided at the last minute not to run away to Mexico with Mickey.
But while the new, Mickey-less season of Shameless is airing, fans can actually still see Noel Fisher on their TVs. His new miniseries The Long Road Home premieres on Tuesday, Nov. 7 at 9 p.m. ET, and Fisher said his part is similar to his role on Shameless in that he feels it's a meaningful story that needs to be told, but different in that it comes with the added responsibility of telling the true story of an actual soldier.
Fisher plays Tomas Young in the new show, which is based on the book of reporting ABC News' Martha Raddatz wrote about the early days of the Iraq War in 2004. Young was inspired to enlist in the army after 9/11, but after being paralyzed from the waist down by a gunshot to his spine during an ambush, he returned to the United States as one of the most vocal opponents of the war effort.
Fisher says he hopes the show will better inform people about what being at war really means, and the human toll it comes with, especially at a time when questions over war and the military have come to the forefront of American politics:
I've obviously never been on a battlefield; I have no idea what war is like. But I think that it's important especially for the civilian population to understand that as much as we can, because we've been at war for over a decade. We should know, or try, at least on some level, to have a conversation about it, because that's a decision that we're making as a country. And we should be as informed as we can be.
So Shameless fans looking for their Mickey fill are going to be out of luck this season, but they can always catch Noel Fisher on The Long Road Home.