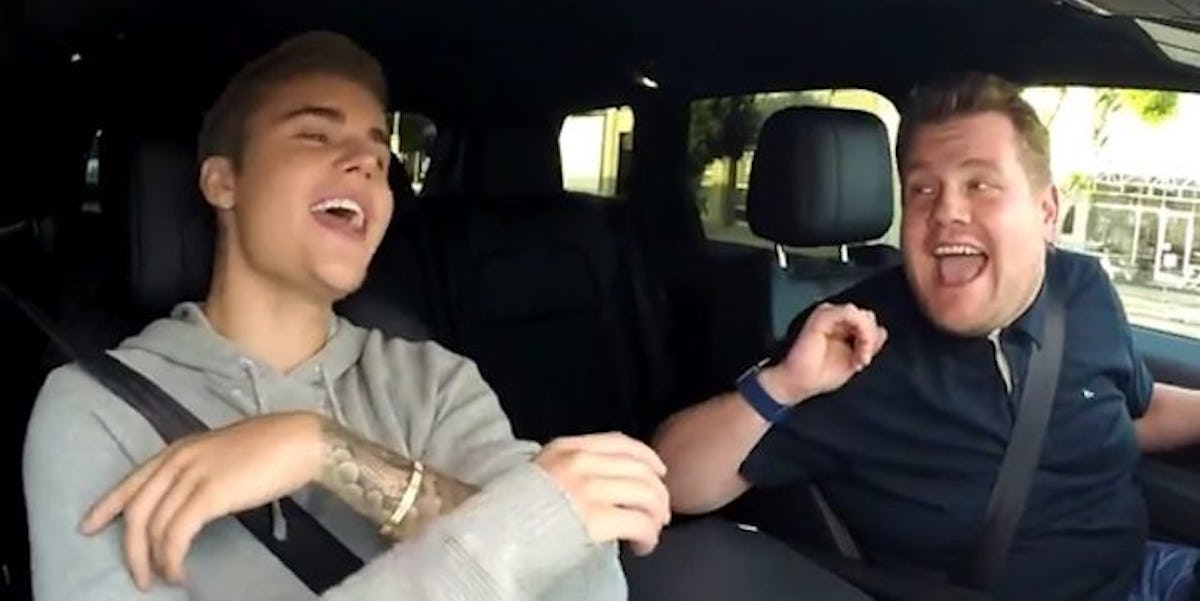 James Corden's Second 'Carpool Karaoke' Spinoff Will Air Primetime This May
Youtube
"Carpool Karaoke" is taking another step toward its inevitable world domination.
The celebrity singing segment already has one spinoff coming to Apple Music this year, and now it's getting another one that will be airing primetime on CBS!
A TV special "Carpool Karaoke" event will air on CBS at 10 pm ET next month, according to E! News.
This will be the second time the insanely popular "Late Late Show with James Corden" segment will be turned into a primetime special — last year, James Corden hosted his first primetime special with Jennifer Lopez as his passenger.
Of course, the question on everybody's mind is which superstar will be sitting in Corden's passenger seat for the big event. Luckily, we have a pretttty good idea of who it might be: Ed Sheeran.
The pop singer was spotted strumming his guitar in Corden's car back in February, as reported by the Daily Mail, so get ready to hear "Shape of You" for the millionth time.
Then again, the guest could also be Victoria Beckham. The former Spice Girl teased an upcoming appearance on the segment a couple weeks ago.
Along with a new "Carpool Karaoke" segment, "The Late Late Show Carpool Karaoke Primetime Special 2017" will also feature a new "Toddlerography" segment as well as some of Corden's favorite "Late Late Show" moments of the past year.
And the "Carpool Karaoke" car just keeps on driving. The segment's 16-episode spinoff series "Carpool Karaoke: The Series" is premiering on Apple Music sometime soon.
Corden dropped the first trailer for the upcoming series a couple months ago, which features stars like Ariana Grande, Blake Shelton, Will Smith, John Cena and more paired with Corden stand-ins like Billy Eichner, Chelsea Handler, and John Legend.
It's time to face the facts: It's a "Carpool Karaoke" world and we're just living in it.
I mean, each time James Corden drops a new "CK" video on YouTube it pretty much always becomes the top trend of the day. His clip with Adele is the most-watched video in YouTube history, amassing over 150 million views.
"The Late Late Show Carpool Karaoke Primetime Special 2017" will premiere on May 22 on CBS at 10 pm ET.
Citations: Carpool Karaoke Is Heading to Primetime With New CBS Late Late Show Special (E! News)