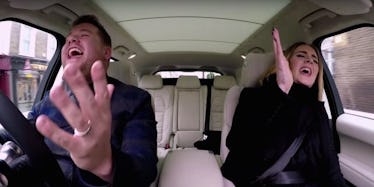 Adele Raps During 'Carpool Karaoke' And It's Actually Incredible (Video)
Hello. It's miggitty-wiggitty me.
James Corden is slowly becoming the Internet's favorite person. He is like a more tolerable and British Jimmy Fallon.
That's like the highest compliment I could ever give anybody, and the "Carpool Karaoke" series is flat out great. Getting über famous celebs to go for rides and sing along to the radio is one of the most simple yet genius ideas ever concocted.
My new career goal is literally to just go for a ride with James Corden. He and Tom Hanks are really the only people I can say that about.
Oh, by the way, sure, Adele sings in this video. More importantly, though, Adele raps the bridge from "Wannabe" by the Spice Girls during the ride, and it's pure fire.