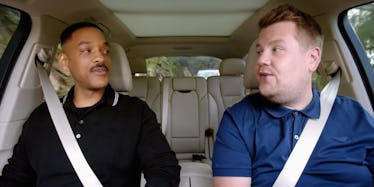 James Corden Drops Epic 'Carpool Karaoke' Series Teaser With Ariana Grande
YouTube
If you were wondering how Apple Music was going to compete with every other content-providing platform out there, you just got your answer.
Following the Grammys' edition of "Carpool Karaoke," James Corden just released the official trailer for a full "CK" series on Apple Music.
Those of you who love the series but wish it came in longer episode chunks are in luck.
We all know James Corden's show is never not great.
"Carpool Karaoke's" combination of celebrities, cars, an XM satellite radio subscription and the most watchable living thing to come out of the UK since The Beatles all shoved into a Prius, and it made 2016 a little bit easier to swallow.
During the minute-long teaser, Shaq, John Cena, Ariana Grande, Mister Big playing a french horn (I think?), Michael Strahan, Jeff Gordon, Will Smith, Billy Eichner, Metallica, Chelsea Handler, Blake Shelton, John Legend, Alicia Keys and Corden himself all took to the carpool car to belt a few bars while driving around.
What's cool about the series is that it seems to have a "remote" element where celebs in the car drive to do different activities in the city rather than just cruise.
John Cena works at a bakery, Will and James end up in a second line, a gospel choir shows up, Blake laughs at Chelsea as she tries out a cryo chamber (I think), Jeff Gordon and Michael Strahan racing and Shaq hits a free throw.
Just to get you super pumped for the series, here are a few of the other "Carpool Karaoke" episodes Corden beat out these past few months.
Making "24K Magic" with Bruno.
Getting "Lucky" with Britney Spears (LUCKY IN THAT THEY DIDN'T GET INTO A CAR ACCIDENT, NOT THE OTHER THING).
Lady Gaga. *bows for an hour*
BRING ON CK THE SERIES! WE ARE READY!
Citations: James Corden and Will Smith take to the skies in a helicopter... as Ariana Grande and a host of other celebs join him in exciting Carpool Karaoke trailer (MailOnline)