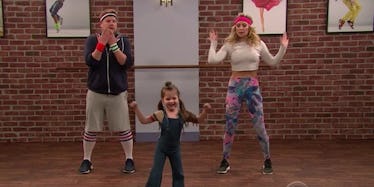 James Corden And Kate Hudson Couldn't Keep Up With These Cute Dancing Toddlers
CBS
I'm not saying James Corden is the best late night host, I'm just saying he has the best segments, the most charisma and the best jokes.
...OK, maybe I am saying James Corden is the best late night host. Sorry, Jimmy Fallon.
But, look, this "Toddlerography" segment is pure genius.
It was great when Gwyneth Paltrow did it, it was great when Jenna Dewan Tatum did it and now Kate Hudson's done it, and it's still just as great.
On Tuesday night, Kate Hudson stopped by the "The Late Late Show" and got to participate in this brilliant concept: a dance workout led by toddlers.
Basically, they just put on some music (Natalie Imbruglia's "Torn," a '90s classic), had the toddlers stand in the front of the room and do whatever dance moves they wanted.  James and Kate did their best to keep up and copy whatever move the toddlers chose.
The results were as adorable and hilarious as you'd think they'd be.
First, shout out to how bangin' Kate Hudson looks in her '80s-style jazzercise outfit. It's not fair that she can pull this off, but she does.
I mean, right?
Anyways, the toddlers immediately put James and Kate to work.
Sometimes they did what almost looked liked core work, but was actually just crawling.
This little shy guy who just swayed back and forth for his dance moves was my favorite.
He gets me.
But this little girl was the clear star, and everyone, including her, knew it.
She's going places.
And, as every person living that healthy lifestyle knows, a proper workout ends with a proper cool down.
Is that not an amazingly simple and entertaining concept for a late night segment?
I just hope whoever came up with it got a smile and an approving nod, as is the capitalist way.
Citations: Kate Hudson and James Corden Take Dance Lessons From Kids in Toddlerography (Entertainment Tonight)