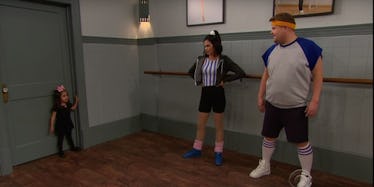 Jenna Dewan Tatum And James Corden Hilariously Get Dance Lessons From Kids
Well, James Corden has done it. He officially made the best video on the Internet.
There is a small trend online called Toddlerography, which, if the world finally got its sh*t together and started focusing on IMPORTANT STUFF, could become a global phenomenon.
The basic premise is simple: Just follow what a toddler does, and play Sia music in the background.
Does it have to be a toddler? Nah, any kid who erratically moves around is acceptable.
Does it have to be Sia? Yes. Shut up.
The host of "The Late Late Show with James Corden" decided to try his hand at Toddlerography with the help of Jenna Dewan Tatum, and the result is just f*cking delightful. Really, just a super nice video you could watch with your grandmother or at a bachelorette party. It's THAT transcendental.
Forget "The Perks of Being a Wallflower." This is the only feel-good media you need in your life.
Citations: Watch Jenna Dewan Tatum Take Dance Lessons From Kids (Cosmopolitan)